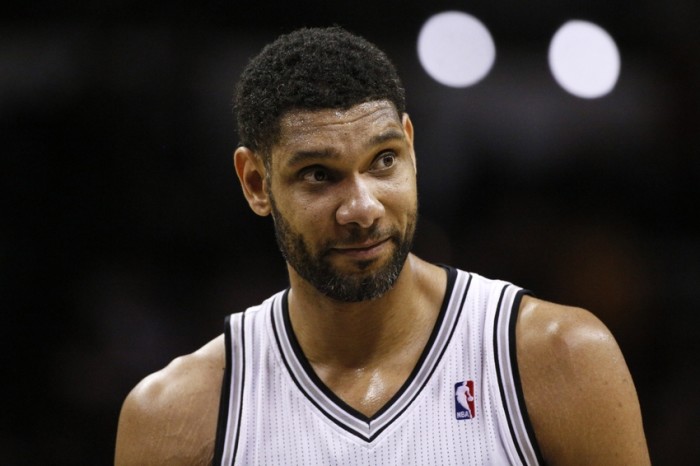 After five NBA titles, two NBA MVP awards, 15 All-­Star appearances and a spot on many lists as the greatest power forward of all time, San Antonio Spurs star Tim Duncan is calling it a career.
Duncan, who turned 40 in April, announced Monday that he is retiring from the NBA after 19 seasons, all with San Antonio.
"More cutthroat than people give him credit for," Los Angeles Lakers legend Kobe Bryant told ESPN's Marc Stein on Monday upon learning of Duncan's retirement. "I loved everything about him on the court."
Duncan's final game ended up being a 113-99 loss to the Oklahoma City Thunder in Game 6 of the Western Conference semifinals on May 12. Quiet for much of the series, Duncan showed flashes of his All-Star form in what turned out to be his career finale, with 19 points, five rebounds and a block in 34 minutes.
With the Spurs getting blown out in Game 6 and the fourth quarter set to begin, coach Gregg Popovich and his veteran star had a brief conversation on the bench. Duncan then played all 12 minutes of the fourth quarter without coming out for a rest, perhaps soaking up every second he could in the final game he would ever play. When the game was over, Duncan waved to the visiting crowd and pointed a finger toward the roof as he headed to the locker room, a rare signal from one of the league's most stoic superstars.
"Timmy's never been a very outspoken or emoting sort of individual on the court," Popovich said earlier this year. "Everybody does it differently."
Duncan partnered with Popovich to post the most wins by a player and coach in NBA history with 1,001. The Spurs coach will discuss Duncan's decision to retire at a news conference Tuesday. There are no plans for Duncan to address the media.
Source: ESPN