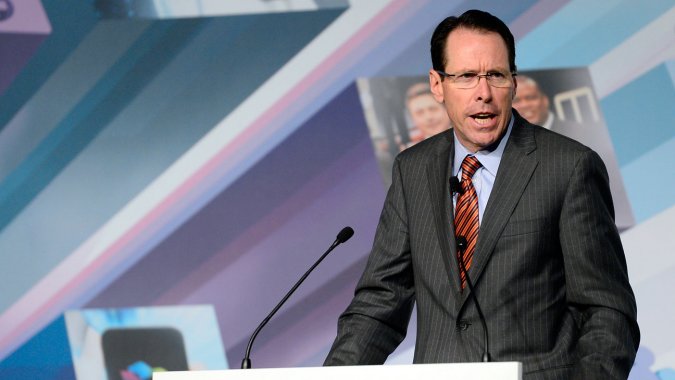 The telecom giant says cross-selling services is a 39 million household opportunity, including a chance to sell video services in 21 million homes.
Telecom giant AT&T on Wednesday updated its financial guidance and strategy following its recent acquisitions of satellite TV giant DirecTV and Mexican wireless companies Iusacell and Nextel Mexico.
"With our national retail presence, coast-to-coast TV and mobile coverage, and pervasive broadband footprint, we're positioned like no other to lead the evolution of video and shape the future of the industry," said chairman and CEO Randall Stephenson. "We have the premier set of assets to redefine TV everywhere and deliver an entertainment experience that is truly unique."
He added: "We're a different company than when we began the year and it shows in what we'll be able to offer customers and in our financial outlook. We've diversified our capabilities, added significant scale in video and mobility and can now deliver integrated services that set us apart from the competition."
The comments come after big entertainment industry stocks fell last week amid fears of cord-cutting and a rise in popularity of "skinny" pay TV packages, as well as soft TV networks ratings and advertising revenue.
AT&T now is the largest pay TV provider in the U.S. and the world, providing service to more than 26 million subscribers in the U.S. and more than 19 million in Latin America. It also has 132 million wireless subscribers in the U.S. and Mexico and has nearly 16 million broadband subscribers.
AT&T said it continues to expect $2.5 billion or more in annual cost synergies from the DirecTV transaction by 2018. "This does not include numerous revenue synergy opportunities, including cross-selling additional products to each customer base; enhanced retail distribution as AT&T begins to offer DirecTV in its 2,200 company-owned retail store locations; and enhanced advertising opportunities, such as local ad insertion," it said.
The cross-selling is a 39 million total household opportunity, with 15 million homes possibly adding wireless, 21 million adding video and
3 million adding high-speed Internet services, it said.
"Additionally, AT&T now has the ability to broadly offer TV service to its 57 million broadband customer locations," it said. "Previously, the company could offer U-verse TV and broadband to only about half of these customer locations."
Potential capital spending and working capital synergies include moving to a common video platform and transitioning to a common set-top box, AT&T said.
Given all that, the company updated its 2015 guidance, including double-digit consolidated revenue growth due to the DirecTV acquisition, and gave a three-year financial forecast.
From 2016 through 2018, the company expects annual revenue growth in line with GDP growth or better and adjusted earnings per share growth in the mid-single digit range.