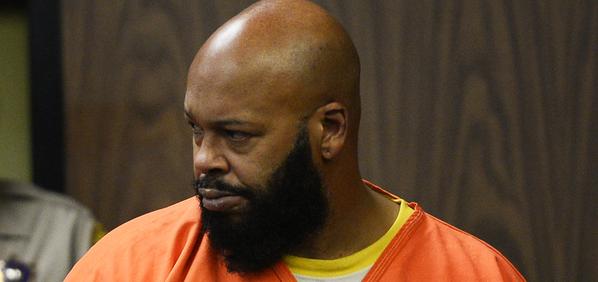 A bail review hearing scheduled for former Death Row mogul Marion "Suge" Knight, who was charged with murder following a hit-and-run that killed one man and injured another last month, has been delayed until March.
Due to the delay, a judge says Knight should stay behind bars until the next court hearing.
The 49-year-old's attorney and a prosecutor asked for a delay in the bail review hearing, as both sides expressed needing more time to prepare.
He was officially charged last week (February 2) for one count of murder, one count of attempted murder, two counts of hit-and-run.
If convicted, he faces the possibility of life in prison.
Suge Knight was arrested for murder in connection to a fatal hit and run that occurred last week (January 29) on the set of the upcoming N.W.A. biopic, titled "Straight Outta Compton," in Los Angeles.
According to Knight, he was involved in a fight with three men on the set of a movie filming in Compton after the music mogul appeared uninvited and was asked to leave. When Knight got into his car, he allegedly reversed his vehicle and struck a man who was identified as "a friend," according to his attorney. The man, named Terry, was later pronounced dead at a local hospital.
Knight is due back in court March 20.