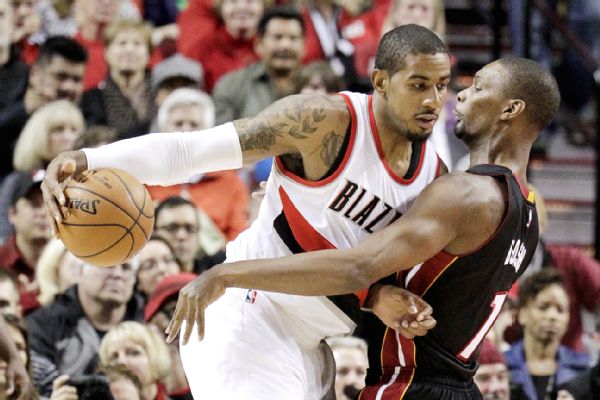 Portland Trail Blazers power forward LaMarcus Aldridge is expected to miss six to eight weeks after tearing the radial collateral ligament in his left thumb, the team announced Thursday night.
The three-time All-Star spoke before Portland's game against the Boston Celtics.
Aldridge hurt his thumb when his hand came down on the knee of Sacramento's DeMarcus Cousinsin the second quarter of the Blazers' 98-95 victory over the Kings on Monday night.
"I've definitely sprained my thumb a few times, but this was on a different level," Aldridge said. "I couldn't even move it."
The 6-foot-11 power forward had X-rays immediately following the injury, but they were inconclusive. An MRI early Thursday revealed the tear.
Aldridge leads Portland with averages of 23.2 points and 10.2 rebounds per game. He is one of only three players in the league averaging at least 20 points and 10 rebounds this season, joining Cousins and the New Orleans' Pelicans' Anthony Davis.
The injury is a big blow to the Blazers, who were already dealing with a depleted front line. Center Robin Lopez is out with a fractured right hand and center Joel Freeland is sidelined with a right shoulder strain.
Portland was 31-12 and sitting in second place in the Western Conference behind Golden State entering the game against the Celtics. But the Blazers had lost four of their last five.
They are 14-23 over the last four seasons without Aldridge.
"It's tough, we've been in a pretty good rhythm most of the season," Aldridge said. "We've lost guys a lot this season — this is a totally different season from last year — but we have a lot of guys here who can step up and play better, and make plays. So I think the team shouldn't stall, we're going to get guys back soon, so that should be good for us."
Aldridge said he will have surgery within the week. He was wearing a black sleeve on his wrist and thumb when he spoke to reporters in the Blazers' locker room.
He said he discussed with the doctors whether he could play with it, but ultimately it was decided that he should have the surgery.
"We just talked to the doctors and they didn't feel the risk was going to be worth the reward," he said. "It could be worse on the back end, or I could even wait two weeks and try to play and not end up playing anyways. So we just felt like, to us, the right thing to do is take care of it now."