So im at the #BetRadioRoom doing interviews for my new single "Where you at" and i sit down with @angelayee from @Power1051 in New York,  im telling her more about the project and she asked why did i choose bowwow to be the featured artist on my record, i then say,  because everything is swinging so young today and in the direction that i have always been criticized for,  its seems more than right now!  to put out a record featuring, a person most of the artist on the radio today, grew up watching, wanting to be and listening to,hes like their Jay -Z …of course she was like,  uhhhhhhhhh uh oh jd thats a pretty big statement,  i said have yall not been paying attention to what these young artist are saying,  take for instant what Fetty Wop said,  fast foward,   yesterday @vincestaples posted this on twitter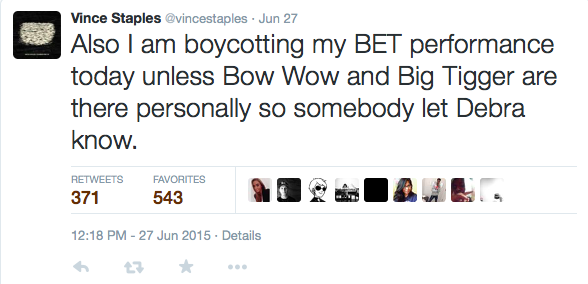 i then retweeted it, tagging angela and saying, see!! this goes along with what i was telling you, but like everytime i do interview, they leave shit out and twist up the conversation, making it seem like something else lol, read below
Posted Sunday, June 28th 2015 @ 8am  by Honey German
While out in Los Angeles for the BET Awards, Angle Yee sat down for an interview with Jermaine Dupri, and he is not happy with the award show and is ready to boycott his performance.
What's bugging JD? The fact that Shad Moss (Bow Wow) will not be at the BET Awards today and he pretty much fathered all these new rappers.
Speaking on his protégé, JD says Bow is "Jay Z to these young kids" and brought up the fact that Fetty Wap admitted that he doesn't know any Jay Z or Nas lyrics during a recent Angie Martinez interview.
He later sent Angela a tweet that Vince Staples had posted during a twitter rant in which Vince said he is also boycotting the award show if Bow Wow and Big Tigger are not there personally.
Read more: http://www.power1051fm.com/onair/the-breakfast-club-40716/jermaine-dupri-says-bow-wow-is-13717119/#ixzz3eNvU622q