Jagged Edge Tour Dates
"I realize that what I do for a living opens my life to public scrutiny and that I have a responsibility to everyone because of that exposure," he said.

"I can say that I am only human and I have made mistakes. I can say that I try to live my life in the most true, honest way that I can. I am not perfect, no one is. No one is harder on me than me. No one can please everyone. No one can live in the past and expect to grow. I have been moving forward and hope that I am not defined by just a few moments in my life but all of the moments that will make up my life."
FOR ALL THE DJS ASKING FOR NO TAGS
September 4th, 2014
no comments
"Determination" isn't just the name of Royce Rizzy's new project, it describes his grind and career as a whole.  The Oakland born, DMV raised, Atlanta rhymer has been perfecting his craft and steadily releasing good music for years.  So much so that Rizzy caught the attention of industry icon Jermaine Dupri and signed to exemplary So So Def/RCA.  Now with a major label backing, a star studied remix to "Gah Damn," (Jermaine Dupri, K Camp, Twista, and Lil Scrappy) and a relentless work ethic, Royce Rizzy is ready to make a profound impact at A3C.  We got on the phone with Rizzy on our Take 5 segment to talk about So So Def, what he'e learned from JD, and his biggest record to date.
A3C: Biggest record of your career so far?
RR: "It would have to be "Gah Damn."  Not just the remix, but the song as a whole."
A3C: Most important thing you've learned from Jermaine Dupri?
RR: "Patience.  He taught me it's better to put it out the right way and at the perfect time.
A3C: Describe Royce Rizzy in 5 words or less.
RR: "Humble, determined, dedicated, observant, and fly."
A3C: Signing w/ So So Def has "____"
RR: "It's given me a bigger outlet. Now that the label is behind it I feel like people pay attention a little more."
A3C: Your mission at A3C is "____."
RR: "Two years ago I just wanted to be a part of it and King Chip brought me out on stage.  Last year I was on a stage but wanted to be on every stage.  This year I just want to make an impact.  I want people to be like "Yo, Rizzy really did some sh*t at A3C."
Follow On Twitter @roycerizzy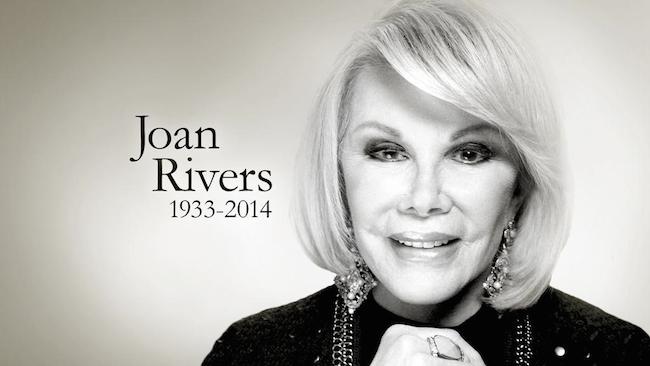 Joan Rivers — who made the world laugh for over 50 years with her jokes, put-downs and one-liners — has died in NYC … a week after her heart suddenly stopped beating during vocal cord surgery.  She was 81.
Joan's daughter Melissa Rivers took her mom off life support so she could pass comfortably in a private room.
Rivers is widely credited for opening doors for countless female comediennes. She broke through in a big way during her appearances on "The Tonight Show" with Johnny Carson.
She also famously enraged Carson by accepting a gig to host a competing late night show on FOX. Carson never spoke to her again.
Rivers was born in 1933 — she worked as a writer and fashion consultant before entering show biz as a stand-up comic in the early '60s. She was famously self-deprecating … often self-critical of her looks and her marriage to Edgar Rosenberg … who committed suicide in 1987.Joan's late '80s FOX show tanked, which somewhat derailed her career. It was resurrected in a big way in 2010 in the wake of the documentary "Joan Rivers: A Piece of Work."
She was universally adored by fellow comedians, including fellow legend Don Rickles, who once said about her … "Joan is not only a very intelligent lady, but extremely masterful at comedy timing. Sharing the stage with her has always been a joy for me."
Barbara Walters was asked about Joan last year, saying … "I wouldn't dare to try to be funny about Joan Rivers because she is the smartest, best-informed and funniest woman I know."Joan and her daughter Melissa began working as a team hosting various red carpet and fashion shows on E! and other networks, including "Fashion Police."
Joan's credits could fill a book … including appearances in "The Muppets Take Manhattan," "The Carol Burnett Show," "Hollywood Squares," "Pee Wee's Playhouse," "Celebrity Apprentice," "Saturday Night Live" … and on and on.
Rae Sremmurd waste no time in unleashing the official visual for their latest single called No Type produced by Mike Will Made It and Swae Lee. Rae Sremmurd are currently putting the finishing touches on their upcoming project SremmLife, which is set to be released later on this year.
BET has just released the nominations for their 2014 Hip Hop Awards. Leading the pack is Drake, who managed to get 8 nominations. After that, Jay-Z, Pharrell and Future each have 6 nods while Nicki Minaj, YG and Rich Homie Quan secured 5 nominations.
The show, hosted by Snoop Dogg, will take place at The Boisfeuillet Jones Atlanta Civic Center on September 20th and will air on October 14th.
Best Hip Hop Video
Drake – "Worst Behavior"
Future f/ Pharrell, Pusha T & Casino – "Move That Doh"
Iggy Azalea f/ Charli XCX – "Fancy"
J. Cole f/ TLC – "Crooked Smile"
Nicki Minaj – "Pills N Potions"
Wiz Khalifa – "We Dem Boyz"
Best Collabo, Duo or Group
Eminem f/ Rihanna – "The Monster"
Future f/ Pharrell, Pusha T & Casino – "Move That Doh"
JAY Z f/ Justin Timberlake – "Holy Grail"
ScHoolboy Q f/ BJ The Chicago Kid – "Studio"
YG f/ Jeezy & Rich Homie Quan – "My Hitta"
Best Live Performer
Drake
JAY Z
Kanye West
Kendrick Lamar
T.I.
Lyricist of the Year
Drake
Eminem
J. Cole
JAY Z
Kendrick Lamar
Nicki Minaj
Video Director of the Year
Benny Boom
Chris Robinson
Director X
Dre Films
Hype Williams
DJ of the Year
DJ Drama
DJ Envy
DJ Khaled
DJ Mustard
DJ Scream
Producer of the Year
DJ Mustard
Drumma Boy
Hit-Boy
Mike WiLL Made It
Pharrell
Timbaland
MVP of the Year
DJ Mustard
Drake
Future
JAY Z
Nicki Minaj
Track of the Year
"Cut Her Off" (Remix) – Produced by Will-A-Fool (K Camp f/ Lil Boosie, YG & Too $hort)
"Move That Doh" – Produced by Mike WiLL Made It (Future f/ Pharrell, Pusha T & Casino)
"My Hitta" – Produced by DJ Mustard (YG f/ Jeezy & Rich Homie Quan)
"Studio" – Produced by Swiff D (ScHoolboy Q f/ BJ The Chicago Kid)
"Worst Behavior" – Produced by DJ Dahi (Drake)
Album of the Year
Drake – "Nothing Was The Same"
Eminem – "The Marshall Mathers LP 2"
Future – "Honest"
Rick Ross – "Mastermind"
ScHoolboy Q – "Oxymoron"
Yo Gotti – "I Am"
Who Blew Up Award
Iggy Azalea
Migos
Rich Homie Quan
ScHoolboy Q
YG
Young Thug
Hustler of the Year
Dr. Dre
Drake
JAY Z
Rick Ross
T.I.
Made-You-Look Award (Best Hip Hop Style)
A$AP Rocky
JAY Z
Kanye West
Nicki Minaj
Young Thug
Best Hip Hop Online Site
AllHipHop.com
Complex.com
HotNewHipHop.com
NecoleBitchie.com
RapRadar.com
WorldStarHipHop.com
Best Club Banger
Future f/ Pharrell, Pusha T & Casino – "Move That Doh" (Produced by Mike WiLL Made It)
K Camp f/ Lil Boosie, YG & Too $hort – "Cut Her Off" (Remix) (Produced by Will-A-Fool)
Migos – "Fight Night" (Produced by Stack Boy Twaun)
Wiz Khalifa – "We Dem Boyz" (Produced by Detail)
YG f/ Jeezy & Rich Homie Quan – "My Hitta" (Produced by DJ Mustard)
Young Thug – "Stoner" (Produced by Dun Deal)
Best Mixtape
Action Bronson – "Blue Chips 2"
Fabolous – "The Soul Tape 3"
Migos – "No Label 2"
Rich Homie Quan – "I Promise I Will Never Stop Going In"
Wiz Khalifa – "28 Grams"
Sweet 16: Best Featured Verse
B.o.B – "Paranoid" (Ty Dolla $ign f/ B.o.B)
B.o.B – "Up Down" (Do This All Day) (T-Pain f/ B.o.B)
Drake – "Who Do You Love" (YG f/ Drake)
Kendrick Lamar – "Control" (Big Sean f/ Kendrick Lamar & Jay Electronica)
Pharrell – "Move That Doh" (Future f/ Pharrell, Pusha T & Casino)
Impact Track
Common f/ Vince Staples – "Kingdom"
Lecrae – "Nuthin"
Lupe Fiasco – "Mission"
The Roots f/ Patty Cash – "Never"
Talib Kweli f/ Abby Dobson – "State of Grace"
People's Champ Award
Drake – "Worst Behavior"
Future f/ Pharrell, Pusha T & Casino – "Move That Doh"
Iggy Azalea f/ Charli XCX – "Fancy"
Wiz Khalifa – "We Dem Boyz"
YG f/ Lil Wayne, Nicki Minaj, Meek Mill & Rich Homie Quan – "My Hitta" (Remix)