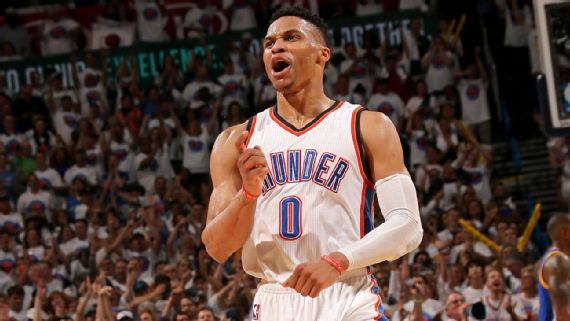 Russell Westbrook and the Oklahoma City Thunder have reached an agreement in principle on a new contract potentially worth $85.7 million over the next three seasons, league sources told ESPN. The deal includes a player option that would allow Westbrook to still become a free agent after the 2017-18 season.
Westbrook, who has played all eight seasons of his career for the Thunder, will sign the contract on Thursday in Oklahoma City, sources said.
Talks between the sides centered around the addition of two more years to Westbrook's current deal, which expires after the 2016-17 season. The new deal would call for Westbrook's salary to jump from $17.8 million next season to the maximum $26.5 million. He would then earn the max the next two seasons if he exercises the third-year option.
The player option for the third season of the deal will allow Westbrook to capitalize on the league rule allowing players who have completed 10 seasons to earn a larger max salary.