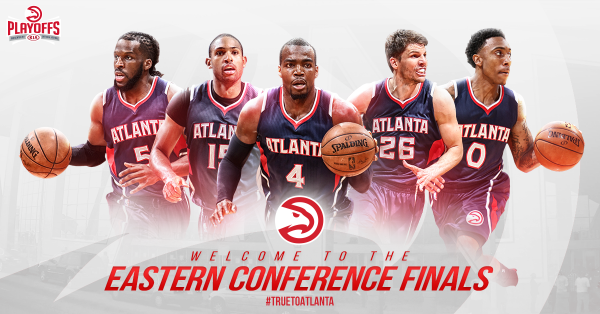 Atlanta Hawks made it to the Eastern Conference finals for the first time by beating the Washington Wizards94-91 on Friday night.
The Hawks held on thanks primarily to DeMarre Carroll's playoff career-high 25 points, including two layups in the last minute off assists from Jeff Teague.
After Al Horford went 1 of 2 from the free throw line for a three-point lead, the Wizards inbounded the ball with 6.4 seconds left. They got the ball to Pierce, who won Game 3 on a banked-in buzzer-beater, then put Washington briefly ahead late in Game 5 with a 3. This time, his 3 from the corner swished through, but a replay review determined it was too late.
Atlanta hosts LeBron James and the Cleveland Cavaliers in Game 1 of the conference finals on Wednesday.