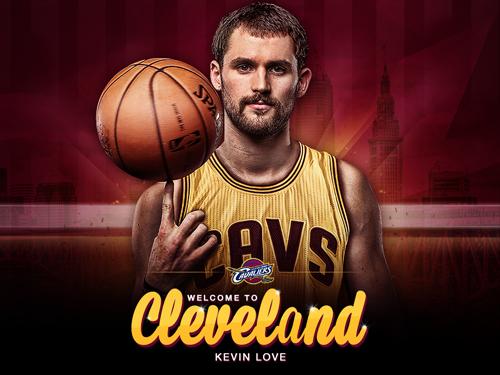 The Minnesota Timberwolves, Cleveland Cavaliers and Philadelphia 76ers completed a delayed blockbuster trade Saturday that's been talked about for months and on hold for 30 days. Love, arguably the game's best power forward, is headed from Minnesota to Cleveland, where he will join James and instantly make the Cavs an NBA title favorite. he Timberwolves are getting No. 1 overall pick Andrew Wiggins and former top pick Anthony Bennett from Cleveland, veteran forward Thaddeus Youngfrom Philadelphia and a $6.3 million trade exception.
The 76ers get a 2015 first-round draft choice, and guard Alexey Shved and forward Luc Richard Mbah a Moute from Minnesota.
A rarely used NBA rule forced the teams to wait to complete the trade until 30 days after Wiggins signed his rookie contract.
It's official now, and Cleveland, which hasn't had a major pro sports championship since 1964, is poised to make a run at ending the drought.
"Kevin joining the Cavaliers represents a very special and unique opportunity for our team," Cavs general manager David Griffin said in a release. "At only 25, Kevin has already firmly established himself as one the NBA's elite players and his talent, versatility and fit are major parts of our team's vision for success."
The Cavs and Timberwolves have been discussing a trade involving for Love for months, long before James decided to leave Miami and come back home to Ohio. The deal dragged on through the summer, first because of Cleveland's unwillingness to include Wiggins in any package, and then due to the 30-day provision.
That bit of fine print in the collective bargaining agreement triggered an agonizing wait in both cities, more so in championship-starved Cleveland where generations of fans have longed for the Cavs, Indians or Browns to win it all.
Now the league's best player has another superstar as a running mate. Add in All-Star point guard Kyrie Irving and James again finds himself the ringleader of a star-studded trio after leaving Chris Bosh and Dwyane Wade behind with the Heat.