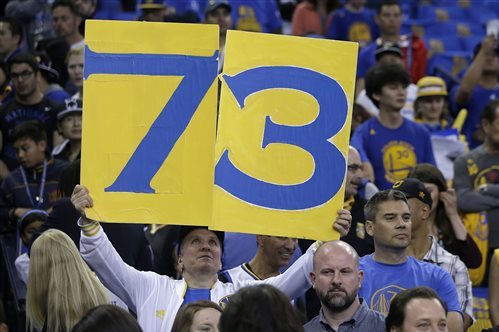 In winning 125-104 over the Memphis Grizzlies on Wednesday night, the Golden State Warriors, again, jumped the line and seized something the league still struggles to believe. They, and not Michael Jordan, now boast the NBA's best-ever regular season.
The season-capper featured more than just win No. 73. Going in, Curry needed eight 3-pointers to reach 400 on the season and 41 points for a 30-point average. Reaching those benchmarks seemed like a stretch, and yet Curry did it in 30 minutes. Yet again, he made the extraordinarily difficult look wonderfully easy. Again, records fell with the loose flick of his wrist.
Wednesday was planned far in advance, set up to be a highly honorific "Mamba Day" to commemorate Kobe Bryant's last game. But Curry and the Warriors do not wait for history. Kobe's game was moved from ESPN to ESPN2 because that's what you do when a simultaneous event might feature a team's 73rd victory. And so Golden State crashed yet another party and made it theirs — that is, until Kobe reclaimed the zeitgeist with 50 shots, 60 points and a thrilling fourth-quarter flourish.
That's fitting with how it has gone. Curry's brash, imperious Warriors didn't wait to disrupt LeBron James' fairytale ending in Cleveland. They didn't pause for Oklahoma City's steady ascent to an inevitable title. They stepped up and took accomplishments few thought them entitled to.
Source: ESPN