Drake will grace the cover of Vibe Magainze Race Issue, in which Drake talks about how he wants to be loved like Tupac and also speaks On Kendrick Lamar.
Where does that energy come from, lines like, "Muhfuckas never loved us?"
In my mind, I'm still fighting to convince you that I'm meant to be here. I just want people to love me like they love 'Pac. I want people to remember I spoke from the heart and told the truth. It's so crazy because while 'Pac was here, he felt like everybody hated him. And that's where that shit comes from. As much as I brush shit off, I don't feel like people love Drake necessarily. I'm still human—I see a lot of love, tickets selling, people going crazy. But at the same time, it's tough to just see that. I see the rest of it, too. I know I must be most-hated out here.
Rap nerds have speculated whether "The Language" is a subliminal response to Kendrick Lamar's verse on Big Sean's "Control." Is it appropriate to put those two records side by side?
I don't ever want to get into responses. It's a commitment to go there. "The Language" is just energy. What it was inspired by, I'm sure that, and other things. It's just me talking my shit. I never once felt the need to respond to that record. The sentiment he was putting forth is what he should have. Of course you wanna be the best. Where it became an issue is that I was rolling out an album while that verse was still bubbling, so my album rollout became about this thing. What am I supposed to say? Nah, we'll be buddy-buddy? Mind you, I never once said he's a bad guy [or] I don't like him. I think he's a fucking genius in his own right, but I also stood my ground as I should. And with that came another step, which then I have to realize I'm being baited and I'm not gonna fall. Jordan doesn't have to play pickup to prove that he could play ball, no offense. But I'm not gonna give you the chance to shake me necessarily, 'cause I feel great. There's no real issue. It's tough because the people wanna see us tear each other down; I don't wanna give them that. There's no point. I have no ill feelings toward that guy. It's just like, it's there for me if I wanna fall for it. I'm just too smart for that. Hopefully it's the last time I gotta talk about this, 'cause every time I open my mouth up about it, they take this piece and take this piece. And he's hungry, so he's going to do what he has to do like the BET [cypher]. But again, it's not enough for me to go. We haven't seen each other [since the BET cypher,] but I'm sure we'll see each other and it'll be cool. And if it's not, then I guess that's how our story unfolds.
Audio clip: Adobe Flash Player (version 9 or above) is required to play this audio clip. Download the latest version here. You also need to have JavaScript enabled in your browser.
SoundCloud: SH¡T (ATL RMX)" Ft. Pastor Troy, Jeezy, T.I. and Future
Future has decided to put together various remixes for his single Shit. The second remix is an all Atlanta remix Pastor Troy, Jeezy and T.I. produced by Mike Will Made It.
DAMN 225 !!!!
Air Jordan 3Lab5
Color: Black/Infrared 23
Release Date: 12/31/13
Price: $225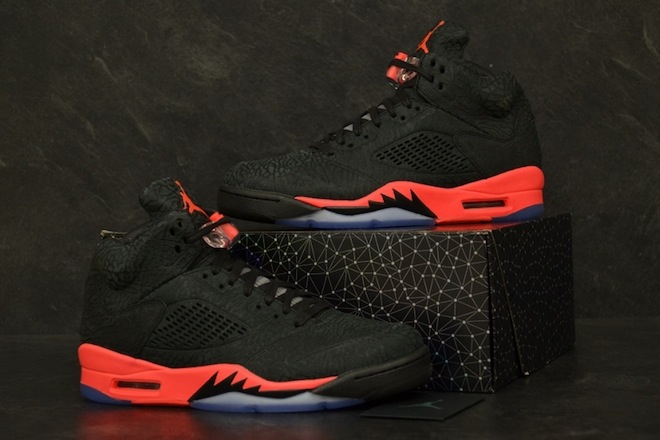 Download: DJ Esco & Future – No Sleep
DJ Esco links up with Future has to present a fresh compilation mixtape titled The No Sleep features several new songs from Future as well as additional tracks from Casino, Starlito, PeeWee Longway and many more.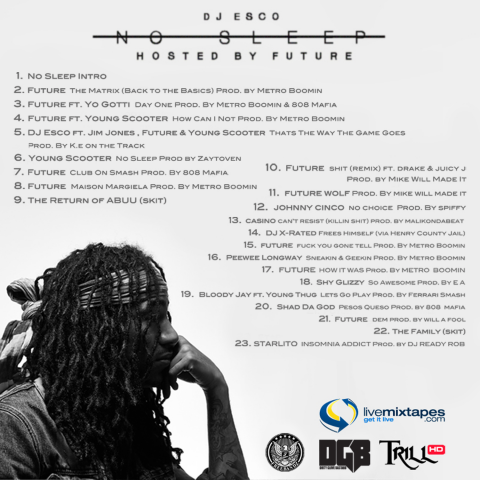 THIS IS JUST A PREVIEW OF THE EASTERN CONFERENCE FINALS
Dwyane Wade scored 32 points, LeBron James added 24 on a sore left ankle, and Chris Bosh and Ray Allen connected on huge 3-pointers within a 31-second span down the stretch. It all added up to the Heat erasing a 15-point deficit in the final 18 minutes to beat the rival Indiana Pacers 97-94 on Wednesday.
"It shows we're a team that's been there before," Wade said. "No matter what the score is we always feel we have an opportunity to win the game."
So even when Indiana led 68-53 midway through third quarter, hope remained.
And even when James and Mario Chalmers were getting in a heated exchange during one particularly bleak stretch the Heat didn't fall apart.
"It was a good win," James said. "Good, good, quality win against a very good team on our home floor. We had to overcome a lot."
Chalmers said after the game that the matter with James was forgotten. James, on Twitter, said he apologized.
Paul George scored 25 points for Indiana but missed a 3-pointer that would have tied it with 4 seconds left, and insisted afterward that he was fouled by James on the play.
"I went into my shot, got pushed in the back, I thought it was a foul, nothing was called, and we lost the game," George said. "Aside of that we still should have taken care of business."
David West had 23 points and Lance Stephenson added 13 for the Pacers, who have dropped two straight and saw their lead over Miami in the Eastern Conference trimmed to one game. Both teams have won against the other on their home floor this season, and Miami topped Indiana at home in Game 7 of the East finals a year ago.
"It's December," Pacers coach Frank Vogel said. "I think you have two great teams going at it. It's going to be a fun series all season, the regular-season matchups, and hopefully we will both be able to reach a point in the playoffs where we can meet again."
Miami got the 15-point deficit down to five by the end of the third quarter, and was still down 92-85 when West scored with 3:21 remaining.
Then, for the first time all night, the Heat put together a real run.
The Heat scored the next 10 points — Bosh's 3-pointer, his first in 15 attempts, tied it at 92. And after George missed in the lane at the other end, James brought the ball the other way and found Allen for a 3-pointer that put the Heat ahead for the first time since the score was 14-13.
They didn't trail again.
"I was encouraged by our ability to stay focused and show some resolve in the second half," Heat coach Erik Spoelstra said. "It wasn't necessarily pretty, but you have to make enough plays … and a lot of times against this opponent it has to be like that, where it's not smooth and you have to make enough plays to just give yourself a chance in the end."
The Pacers had a chance at the lead late, but it went awry when George Hill turned the ball over on a pass with 14 seconds left. Allen made two free throws with 10.3 seconds remaining to put Miami up by three, and that capped the scoring.
Jay Z has partnered together with Cohiba Red Dot and the two have released their super-premium Comador cigars. Handcrafted with tobacco from the world's most revered growing regions, in Santiago and the Dominican Republic, the Comador cigars feature a rare Connecticut Havana wrapper.
Keep your cigars moist, fully flavored and ready to share with friends with this customized humidor designed by Comador and Shawn "JAY Z" Carter. Handsomely covered in fine, grained leather, the two-door hinged humidor is lined with solid mahogany to seal in and emit moisture—while supporting your cigars' maturation. Kitted with a hygrometer that maintains moisture at perfect levels, the humidor is crafted with a storage area and ventilated cedar tray that organize and protect up to 63 cigars. This beautiful investment piece comes with a sealed, screw-top metal travel cylinder that lets you carry your favorite cigars to parties, clubs and other festive gatherings. A fabulous gift for the cigar lover on your holiday list—or for yourself.
The starting price is 210 for seven-cigar Toro Box set, and go up to $1000, for the Cedar-Lined Humidor set. The premium cigars will be available at Club Macanudo, the 40/40 club in New York City, Barney's.