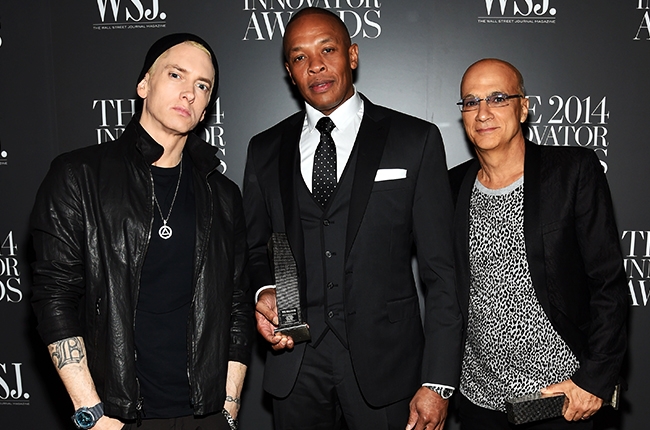 It took two forces of nature to get Eminem to New York City on Wednesday night. The rapper made a surprise appearance at WSJ. Magazine's fourth annual Innovator Awards at MoMA in order to honor two very important people in his life: Dr. Dre (born Andre Young) and Jimmy Iovine.
"Dre and Jimmy are like a force of nature," he said in his introduction, reading from note cards. "As an example of how powerful they are, they got me to fly here all the way from Detroit to speak publicly. And I really hate public speaking."
Iovine and Dre were honored at the star-studded event for their years of entrepreneurship, having founded Beats — which was purchased by Apple for $3 billion — and recently launching the Jimmy Iovine and Andre Young Academy, a program devoted to arts, technology and innovation at the University of Southern California.
"When Jimmy and Dre put their minds to something, get on board or get the fuck out of the way," Eminem said, according to WSJ reporter Elizabeth Holmes.
And put their minds together they did back in 1997, when staffers at Interscope records sent Em's Slim Shady EP to Iovine, the label's CEO, who then played it for Dre. The rest is history, or as Eminem put it at the WSJ event, "They saw my potential."