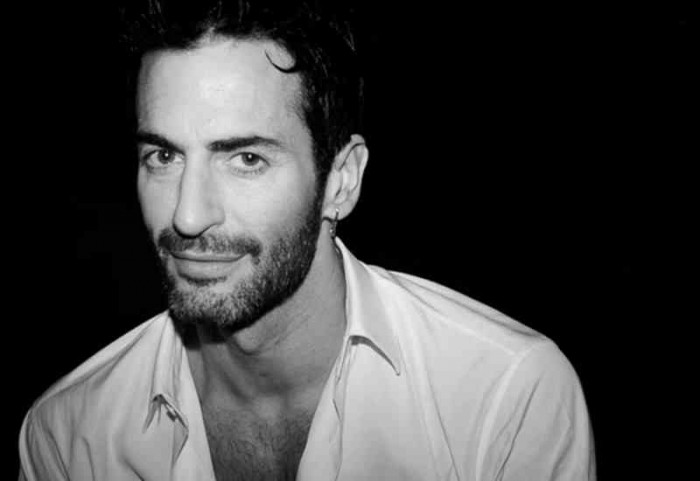 We have the same therapist," laughed architect Peter Marino yesterday evening whilst in conversation with long-term collaborator Marc Jacobs. During an intimate talk curated by The Architecture Foundation at the Tate Modern, hosted by Penny Martin, the duo discussed their mutual love of the arts, New York's 80s club scene and showmanship. Jacobs, who worked with Marino during his sixteen-year the tenure at Louis Vuitton, also revealed details about his recent departure from the fashion house and his hopes for his successor Nicolas Ghesquière. Here, we reveal excerpts from their conversation.
"Actually, I'm a little scared. I mean it wouldn't be me if I sat here and pretended to be super confident about everything. There's a kind of healthy fear that I have – it's how I operate. On a good day I believe it's going to be amazing and on a bad day I think I need that other place to hide. But anyway, today I'm in a good place. I think it's going to be great. I guess there's a plus and minus to doing the Marc Jacobs Louis Vuitton thing. I loved it and I've learnt a lot from living in Paris. I don't know what the future will be and I'm just sort of like lets see, lets see how it goes.
"ON A GOOD DAY I BELIEVE IT'S GOING TO BE AMAZING AND ON A BAD DAY I THINK I NEED THAT OTHER PLACE TO HIDE"
I've always admired Nicolas. You know, I'm curious to see what he'll do you. I mean we have such different aesthetics. I guess I've gone through kind of ups and downs about it, but the thing is before me there was no ready to wear. There were no shoes; there were no jewellery and no menswear – there was nothing. So, I had an opportunity that was so wonderful. I was the first clothing designer there. There were all these stories of houses bringing in new designers. But I think things need change, they just don't stay the same. I'm just really glad that somebody who I really respect and admire and I think is a great talent is there. I'm just curious to see what he does.
In a very small way and I landed this big job [creative director of sportswear brand Perry Ellis] at 25 years old. I was always trying to please other people – I thought that was my job. I thought that was done by making the person who hired you happy, by listening to what they had to say and doing what they told you to do. I found that that didn't really make me very happy, it just made me busy! I've always wanted to be a fashion designer and never wanted to be anything else really. I thought about what moved me and what has always inspired me and what I've always had a primitive connection to and it's contemporary art, music and pop culture. So, this was a moment in New York following a big cycle of glamorous women in very provocative low-cut dresses and I was young-er, like half my age, I've 50 now! So I was about 25, and there was something going on in music and in art – there was a shift in the way models looked and the music that I was listening to was called grunge.
"I BOUGHT A PLAID FLANNEL SHIRT ON ST. MARKS FOR TWO DOLLARS AND WE TURNED IT INTO A TWO THOUSAND DOLLAR EVENING GOWN"
So, for my grunge inspired collection for Perry Ellis I sort of started with this idea of high and low. The girls wore plaid. I think, I bought a T-shirt or plaid flannel shirt on St. Marks Place in New York City for two dollars and we turned it into a two thousand dollar evening gown. So, I like the idea of elevating things that were everyday, in the now and were low-impact. Anyway I got fired after this collection! Hopefully it's the best thing that ever happened to me, because LVMH came knocking and hired me to work for Louis Vuitton, where I've worked for the past 16-years."
MA I NEED YOU TO MAKE THIS FOR ME FOR CHRISTMAS

Ingredients
1 12.3-ounce package extra firm light silken tofu
1 8-ounce package Tofutti Better than Cream Cheese
3/4 cup sugar
1/2 cup vegan eggnog (see note)
2 tablespoons lemon juice
2 1/2 tablespoons brandy or rum
1/2 teaspoon vanilla
1/2 teaspoon freshly ground nutmeg, packed
3 tablespoons cornstarch
1 prepared graham cracker or oatmeal cookie crust
Instructions
Preheat the oven to 350 F. Drain the tofu and put it and the Tofutti cream cheese into your food processor. Blend until smooth. Add the sugar and eggnog, and process again until sugar is dissolved, about 3 minutes. Add the remaining ingredients (except crust) and process until completely smooth, about 3 more minutes. Pour into the pie crust and bake in the middle of the oven for about 55 minutes (do not allow to brown). Filling will be slightly jiggly, not completely set until chilled.
Remove from oven and allow to cool. Refrigerate until completely chilled (the longer, the better). Serve sprinkled with additional grated nutmeg.
Note:
You may use vanilla soymilk instead of eggnog. Just increase the brandy to 3 tablespoons and the nutmeg to 1 teaspoon and add an additional two teaspoons of sugar.
Preparation time: 10 minute(s) | Cooking time: 55 minute(s)
Number of servings (yield): 8
Makes 8 slices. Each slice contains:
-filling only, no crust: 234 Calories (kcal); 7g Total Fat; (28% calories from fat); 4g Protein; 36g Carbohydrate; 0mg Cholesterol; 191mg Sodium; trace Fiber
-with Fat-Free Oatmeal Cookie Crust: 323 Calories (kcal); 8g Total Fat; (21% calories from fat); 6g Protein; 56g Carbohydrate; 0mg Cholesterol; 301mg Sodium; 2g Fiber
-with Keebler Graham Crust: 345 Calories (kcal); 12g Total Fat; (33% calories from fat); 5g Protein; 50g Carbohydrate; 0mg Cholesterol; 308mg Sodium; trace Fiber
These estimates use Vitasoy Holly Nog. Cheesecake made with other soy nog or soymilk will differ.
The New York Times' T Magazine takes a look inside of today's most popular artists, showing how their personal art collections connections with their personality.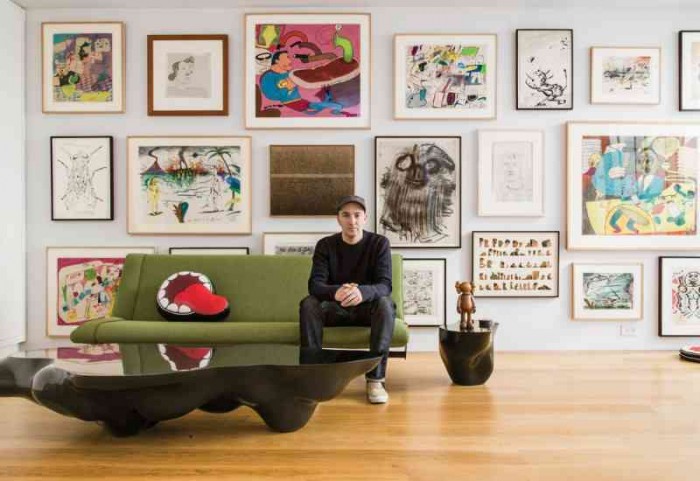 KAWS' lonely "Companion" figure is informed by the absurd, folksy drawings of R. Crumb and the mystic, psychedelic illustrations of Tadanori Yokoo. "I'm like a cat lady, but with drawings and paintings," says Brian Donnelly, the 39-year-old artist known as KAWS.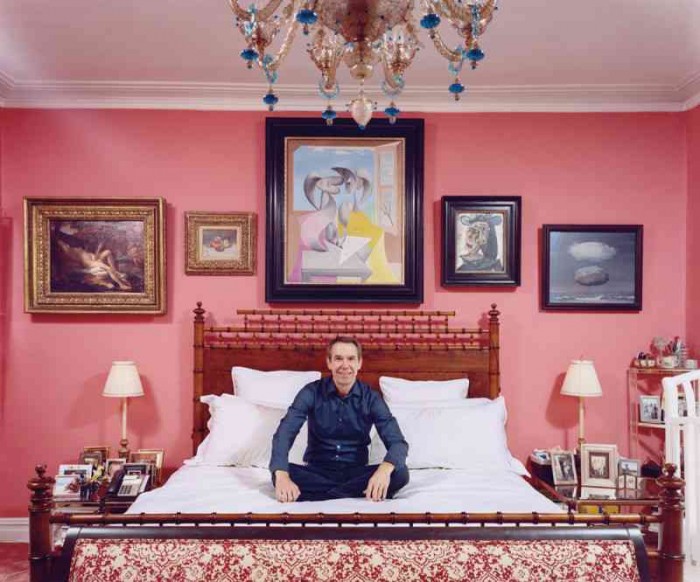 Jeff Koons' large balloon-esque steel sculptures work may seem innately childish, yet are somehow based in more sexual work by Picasso and Magritte. "I think art is about transcendence and consciousness, making connections to things in the world," Koons says.
IM WATCHING THIS AND I UNDERSTAND WHAT MAINO IS SAYING BUT !! NEW YORK DIDN'T BECOME WHAT IT WAS THROUGH JUST MUSIC,IT USE TO BE THINGS THAT HAPPENED IN THAT CITY,THAT FELT LIKE IF I MISSED IT, I WAS HINDERING MY CAREAR.THE BELIEF IN THEIR ON FRESH IS WHATS MISSING TO ME .I FEEL I CAN SPEAK ON THIS BECAUSE,I BEEN THERE THROUGH ALL OF THIS,BACK WHEN I SIGNED THIS ARTIST NAMED JASON FOXX HIS SONG WAS CALLED "AUNT JACKIE"HARLEM HAD STARTED RECREATING NEW YORK DOING NEW YORK,I SAW IT AND WANTED TO BE A PART OF IT, THE DIFFERENCE HERE AND ATL IS THAT SINCE IT WAS THE YOUNGINS DOING IT,THE OLDER MORE LYRICAL GUYS WERE'NT FUCKING WITH IT, AROUND THIS TIME IS WHEN LIL MOMMA GOT HOT,WEBSTAR WAS KILLING IT WITH "CHICKEN NOODLE SOUP" AND RON BROWZ WAS DOING BASICALLY THE SAME THING DJ MUSTARD IS  DOING ON THE WEST,THE ONLY SMART PERSON THAT JUMPED ON THIS WAVE,WAS JIMMY AND HE GOT A BIG HIT!! "POP CHAMPAIGN" BECAME BIGGER THAN THE RECORDS THAT STARTED THE MOVEMENT,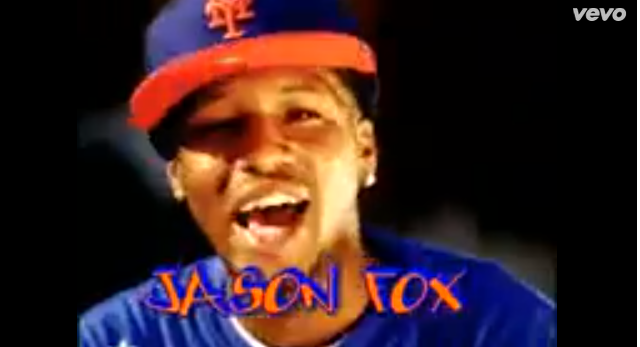 ME PERSONALLY I DONT THINK NEW YORK HAS EVER HAD ONE SOUND,ITS ALWAYS BEEN DIFFERENT PEOPLE BELIEVING IN THEIR FRESH,WHEN JAH WAS SMOKING, JAY-Z AND ROCAFELLA STUCK TO WHAT THEY WERE DOING,THESE YOUNGER GUYS GOTTA START IT AND PUSH IT, WITH EVERYTHING THEY GOT AND NOT PAY ATTENTION TO WHATS GOING ON IN ATL OR MIAMI UNTIL THEY GET THEIR SURROUNDINGS RIGHT
By Phil Gallo, Los Angeles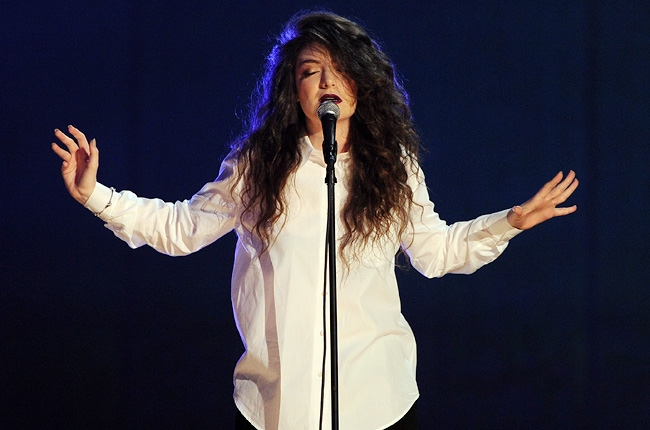 Culturally resonant singles received their due in the nominations for the 56th annual Grammy Awards as songs and artists that dominated radio airplay, streaming and social media were represented in the four major categories.
Grammy Awards 2014: Full Nominations List
In selecting Daft Punk's "Get Lucky" (2.9 million sold), Lorde's "Royals" (3.8 million) and Robin Thicke's "Blurred Lines" (6.3 million) as record of the year candidates, the Recording Academy's nominations revealed a newfound love of not just pop music, but the pinnacle of popular pop music.  Imagine Dragons' "Radioactive," heavily licensed for advertising and video games prior to becoming a single 13 months ago, was as ubiquitous as the other tracks, selling 5.25 million this year, the third highest figure in 2013. All sales figures, compiled by Soundscan, are through Dec. 1.
Song of the year is equally full of significant sellers as Macklemore and Ryan Lewis's "Same Love" is the only nominee not in the Soundscan top 10 of sales for the year. It stands out as the Academy's bravest choice in the four general categories, the selection of an anthem that pushes for equality and understanding in sexual orientation over a track that celebrates buying used clothing. (The duo performed "Thrift Shop" at the nominations concert on Dec. 6; it is nominated for rap performance).
After a few years of the top four categories looking like mandated genre diversity, the 56th edition of the awards has taken a breather from that tendency. Kendrick Lamar and Sara Bareilles are surprise nominees in the album category – pundits projected Justin Timberlake's "20/20 Experience" as a shoo-in – and for some they represent a step away from the mainstream represented in the song and record categories. Still, their records and Taylor Swift's "Red" are as geared toward the pop marketplace as "Blurred Lines" or Katy Perry. After several years of slipping country stars into the general categories, the Academy passed on honoring the acts that defined the year out of Nashville, Luke Bryan, Florida Georgia Line and Blake Shelton.
Diversity does still exist among the candidates in the big four categories, but it's more career path than genre. On one side are those who have worked wholly within the label system and are reaping the benefits a major can provide –Imagine Dragons, Swift, Mars, Perry and Thicke.  On the other side are those who followed the now-metaphorical "sell the records out of the trunk of your car" path – Lamar, Macklemore and best new artist nominee Kacey Musgraves. There is less of a middle ground than ever before, perhaps owing to the lack of an elder statesman or an artist with a substantial history but few hit singles. (Last year that would have been the Black Keys and Jack White).
It's a rare year that the list of artists with the most nominations is dominated with people who work in a single area. With Jay Z (tops with nine nominations), Lamar, Macklemore, Lewis, Pharrell Williams, Timberlake and Drake topping the leader board, it appears the Academy is declaring this a strong year for commercial hip-hop and R&B. Daft Punk, with four, and Black Sabbath with three skew the male side of things older.
It gets creakier in the rock categories where the nominations suggest that only AARP-eligible artists could qualify. And it's not that rock music is no longer being done well by younger acts — the alternative music album category is a superb reflection of the last year in edgy rock music, with albums by acts likely to appear in numerous critics polls (Vampire Weekend, the National, Neko Case).
The top females — Lorde, Musgraves and Swift – have four each. Collectively, they represent youth in a way that the male artists do not; each made an album that challenged notions and expectations about genres and gender, creating worksthat stimulate anticipation for their follow-ups. The Grammy nominations suggest those three artists are peerless at this point in time, nominating them for songwriting, performances and albums. None of them have bulked-up stats from guest appearances.
Grammy nominations are always greeted with carping and it's likely to be focused on the Timberlake omission in the general categories. That's overlooking the fact that Timberlake is actually being honored in a way that's unique – his seven nominations are spread across the pop, R&B, rap and music video fields, a sign that he is a superstar with a broader reach than just about anyone else making music today. That alone is a rare achievement, one that deserves celebration on its own.