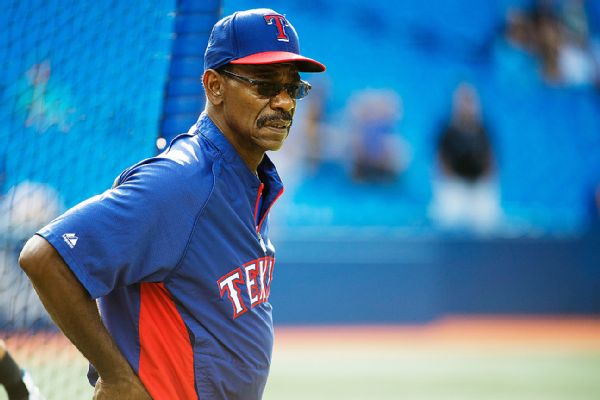 Ron Washington, citing a personal matter, surprisingly resigned as manager of the Texas Rangers on Friday, the team announced.
"Today, I have submitted my resignation from the job I love — managing the Rangers — in order to devote my full attention to addressing an off-the-field personal matter," Washington said in a statement. "As painful as it is, stepping away from the game is what's best for me and my family.
"This is in no way related to the disappointing performance of the team this season. We were already discussing 2015 and looking forward to getting the Rangers back to postseason contention."
The Rangers have the worst record in baseball this season at 53-87 and are 31.5 games back in the AL West entering Friday's games.
General manager Jon Daniels said Washington's resignation is "not drug related."
In 2009, Washington tested positive for cocaine and was subjected to random drug testing. Washington begged for forgiveness and even offered to resign, but then-team president Nolan Ryan stuck with him, signing him to a two-year contract extension in 2012.
Beset by injuries, the Rangers have used 40 pitchers among the 63 players to see action this season — both major league records for a season.
Washington, 62, had a 664-611 record in his eight seasons with the Rangers, guiding the franchise to its first two World Series appearances (2010 and 2011). He is the franchise's leader in regular-season wins and games managed.
Bench coach Tim Bogar will be interim manager for the remainder of the season.
"While we are disappointed, we accept Ron's decision and are grateful for his many contributions to the Rangers organization over the last eight years," Daniels said in a statement. "This has certainly been a difficult season for our major league club in terms of on-field performance, but we were looking forward to moving ahead with Ron as our manager in 2015."
"I deeply regret that I've let down the Rangers organization and our great fans," Washington said. "Over the past eight seasons, it's been a privilege to be part of some of the best years in club history and I will always be grateful for the opportunities I've had here, and for the great management, players, and coaches who have made our time here a success."
The Rangers were 18-16 in Washington's three postseason appearances.