INTERESTING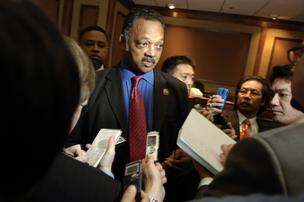 Jesse Jackson has his eye on some of the largest tech companies in the United States, and he has no intentions of ending the staredown until hiring practices he compares to segregation are ended.
On Friday, Jackson's Rainbow Push Coalition published the full text of a speech he was scheduled to give last week at Intel' s Campus, as part of the Change the Face of Technology Forum.
Here's an excerpt of the speech, in which he likens today's tech hiring practices to the separation of services by race, made illegal in 1954 with the landmark Supreme Court decision, Brown v. Board of Education:
Not so long ago, sports was segregated and it was illegal for these great players to play. Scouts could not see. They thought they were the world's best. If we look at the world, look for talent, through a door and not through a keyhole, our best days will be ahead of us.
They said they didn't see us, want us, and couldn't find us.
So let's imagine technology being the best it can be, where all are included and nobody is left behind.
But we should also be inspired to become change agents. We cannot be quieted by fear or shame – but invigorated to work, to push the envelope, and generate a new or innovative inclusion, disruptive diversity.
You are the new leaders. The new innovators. Not just consumers. Not just users. Let's rally together today and commit ourselves to change the face of technology to mirror the world in which we live.
On Dec. 8, Jackson met with Apple's CEO, Tim Cook, the week before, he met with Microsoft CEO Satya Nadella, and Thursday, he met with Intel CEO Brian Krzanich, according to the transcript. He plans to meet with Hewlett Packard's Meg Whitman in the coming weeks. Only Amazon, which he previously criticized, has so far ignored his request for a meeting, according to a report by our sibling publication, Puget Sound Business Journal, which spoke with Jackson.
In August, a series of reports showed that only 2 percent of the tech community is black. Last year, the Kauffman Foundation published its Index of Entrepreneurial Activity by Race, showing that black entrepreneurs comprise about 0.2 percent of the population polled, while white entrepreneurs averaged about twice that rate during the same period.
Jackson described this time as the fourth stage of the civil rights movement, after ending slavery, ending Jim Crow segregation and fighting for the right to vote. He characterizes the fourth stage as the fight for access to capital, industry, technology, deal flow and business relationships.
Michael del Castillo is the technology and innovation reporter at Upstart Business Journal, a member of American City Business Journals. A graduate of Columbia University, his work has appeared in the New Yorker. He is also the cofounder of Literary Manhattan, a nonprofit dedicated to promoting Manhattan's literary community and creating new ways to appreciate literature.