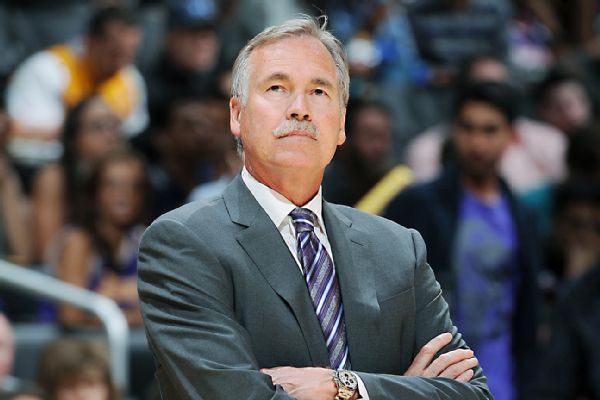 Mike D'Antoni has resigned as coach of the Los Angeles Lakers, the team announced Wednesday night.
D'Antoni stepped down after the Lakers refused to pick up the second year of his contract last week, according to two sources. During conversations with the team over the past two weeks, D'Antoni had asked them to pick up the team option on the fourth year of his deal, according to sources.
D'Antoni had one year remaining on his deal at $4 million. The Lakers held a $4 million team option on him for 2015-16.
"Given the circumstances, I don't know that anybody could have done a better job than Mike did the past two seasons," Lakers general manager Mitch Kupchak said in a statement. "On behalf of the Lakers, we thank Mike for the work ethic, professionalism and positive attitude that he brought to the team every day. We wish him the best of luck."
Los Angeles went 27-55 this season, its first full campaign under D'Antoni. The Lakers posted the second-worst winning percentage (.329) in team history, the worst 82-game record in team history and their lowest win total since the franchise relocated from Minnesota.
"We've hit an insurmountable impasse and Mike will no longer be the Laker coach," D'Antoni's agent, Warren LeGarie, told ESPNLosAngeles.com.
The Lakers will begin a coaching search but a source tells ESPN.com that their immediate focus is on the NBA draft, where they will have at least a top 9 pick and free agency, where they have enough salary cap flexibility to sign a maximum-contract level free agent.
D'Antoni, 62, has posted a 67-87 record since being hired by the Lakers early in the 2012-13 season to replace Mike Brown.
D'Antoni also coached the Suns and the Knicks, reaching two Western Conference finals with Steve Nash in Phoenix before having much less success in New York.