Drake makes his returns to the front cover off XXL for the magazine's 16th anniversary. This is XXL 150th copy that hits newsstands on August 20. Here is a preview of what Drake had to say in the interview.
ON THE NEW ALBUM I remember coming into this year thinking, "How am I going to cut through all these people and shine?" I've never been part of a year when so many legends are dropping projects. How am I going to be seen? I'm going to be like the kid waving in the background in the photo with all of his tall relatives. And, I guess, those were my initial thoughts, and not to say that I haven't enjoyed some of the stuff that has come out this year, but it didn't pan out the way I thought it was going to. I think I am going for it, to really establish what are murmurs or things being said quietly, "Um, I think that Drake might actually…" On September 17th I want people to be like, "Oh, we were right."

ON HIS IMAGE Do I think that if I didn't have, for lack of a better term, a unique look about me, if I was from somewhere in America and if I hadn't been on a kids TV show [Degrassi: The Next Generation], would I be as famous? I don't know, man. Honestly, I don't think so. I was just some young kid on a TV show. And I haven't become anything else while I've been in this position. It's not like I got here and was like, "Oh, got to switch up my image." I don't wake up nervous. I feel like maybe a lot of these guys do. How old are you, really? What is your background, really? What have you really done in the drug game, in the thug game?

ON THE COMPETITION It's tough for me. That's a guy I can't pretend not to like. He's the guy to me, in a lot of ways. That's Kanye West. But I'm also here to be the best. I'm here to surpass. I'm here to outdo. I'm ready for whatever with anybody.

ON HIS SUCCESS I get Jewish people coming up to me proud like, "Mazel Tov, bro. Come to my house for Shabbat dinner."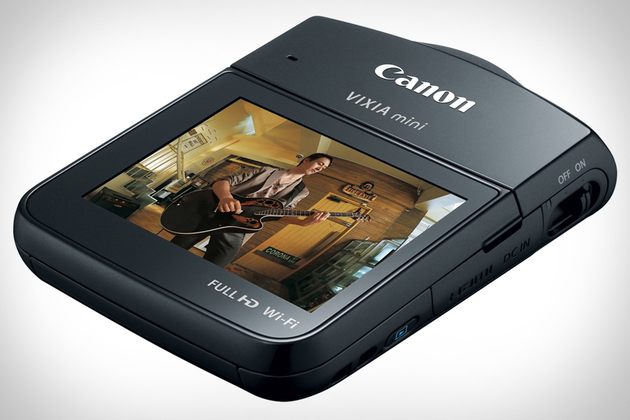 Canon VIXIA Mini Camcorder ($300) you can shoot HD video on the go and still share on all your social networks. Designed to slip conveniently into a pocket, or a small pouch in your bag, you'll barely notice its less than a half a pound weight. The flip-up 2.7-inch LCD screen lets you record from a range of angles, and even view yourself while you record. Wi-Fi connectivity lets you upload video directly to the web, and an available iOS app lets you share content to your phone, or control the camera remotely.
Sean Kingston is back with his latest single called Seasonal Love featuring Wale. Sean Kingston new album Back 2 Life is dropping sometime soon.
Ariana Grande decides to unleash her latest single called Right There featuring Big Sean. This joint will be featured on Ariana debut album titled Yours Truly, dropping on September 3rd. A few weeks ago, legendary producer and mixtape host DJ Cannon made a big leap in the music industry when he was named Vice President of A&R for Def Jam Records. Despite the cushy corporate gig, Cannon is staying busy with a new DJ collective he's starting up with his longtime collaborator DJ Drama.
When Cannon hopped on the phone with XXL earlier this week, he said, "[Drama and I] are starting a new DJ crew called the Academy, to take some of the young folks and kind of teach them, give them the blueprint of what it takes to be that dominating DJ in the field and break these artists and become a big boy in the music business." He elaborated on his mission, saying, "We want to bring new people in the game. And that goes for DJ's, photographers, videographers, artists, and writers. We just want to build something that can help the next generation move on into this new world." Finally, he humbly admitted, "That's our contribution back to what the culture gave us and what we got out of it."