Andre 3000 and Big Boi of Outkast are set to wrap up their 20th anniversary reunion tour with a homecoming concert in Atlanta on September 27th at Centennial Olympic Park. Special guests being unveiled over the next few weeks, and tickets go on sale June 18 at 10am EST via Ticketmaster.
Big Boi: "It's only right that we give the hometown what we've been giving the rest of the world, Atliens in ATL, homecoming! Festival Killers."

Andre 3000: "Coming from Atlanta gave us the freedom to be whatever we ever wanted to be because no one was paying attention. Now that everyone is, we want to say thank you."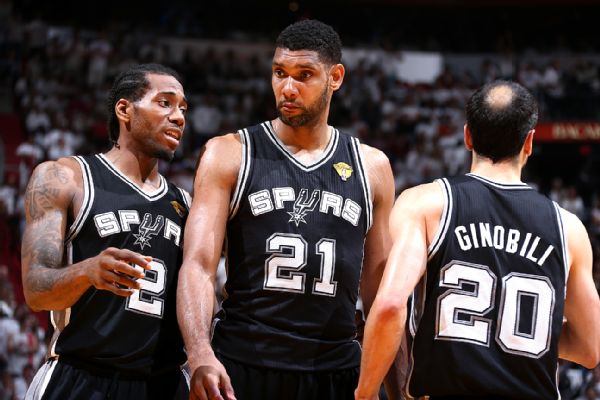 Kawhi Leonard had 20 points and 14 rebounds, and the Spurs routed the Heat again, winning 107-86 on Thursday night to open a commanding 3-1 series lead.
The Spurs can win their fifth NBA championship with a victory at home in Game 5 on Sunday and avenge their seven-game loss to Miami last year. They have three chances, and the way they're dominating the Heat, they might need just one.
"I'm pleased that they performed as well as they did while we've been in Miami, and that's about as far as it goes," Spurs coach Gregg Popovich said. "Now we've got to go back home and play as well or better."
LeBron James had 28 points and eight rebounds, but Dwyane Wade was just 1-of-10 through three quarters and finished with 10 points.
"They smashed us," James said. "Two straight home games got off to awful starts. They came in and were much better than us in these last two games. It's just that simple."
No team has overcome a 3-1 deficit in the Finals, and the way the Heat were outclassed twice on their home floor makes it hard to imagine the two-time champions being the first.
"We put ourselves in a position where it is about making history," James said.
Parker added 19 points, and Tim Duncan had 10 points and 11 rebounds for the Spurs, who shot 57 percent from the field and are hitting 54 percent in the series.
According to Forbes, Michael Jordan is now a billionaire due to an increase in his stake of the Charlotte Hornets to 89.5% from 80%. Sports bankers say the Hornets are presently worth between $600 million and $625 million USD. The Milwaukee Bucks sold for $550 million USD in May, and they are considered the least valuable team in the league. Forbes' net worth figure for Jordan uses the $600 million figure. The Hornets have $135 million USD of debt, which makes Jordan's equity in the team worth $416 million USD. After subtracting all the cash Jordan has invested in the team, they estimate his net worth outside of the Hornets to be $600 million USD, giving him a net worth of a $1 billion USD.
The Equalizer starting Denzil Washington in theaters on September 26th.
James Franco and Seth Rogen are back with their latest film called The Interview. A journalist, and his producer Aaron Rapoport (Rogen) run a popular tabloid show. When they find out that North Korean ruler Kim Jong-un is a fan of the show, they land an interview with him to prove that they can do more than just publish tabloid rumors but things start to change when the CIA tasks them with assassinating the dictator. In theaters later on this year.