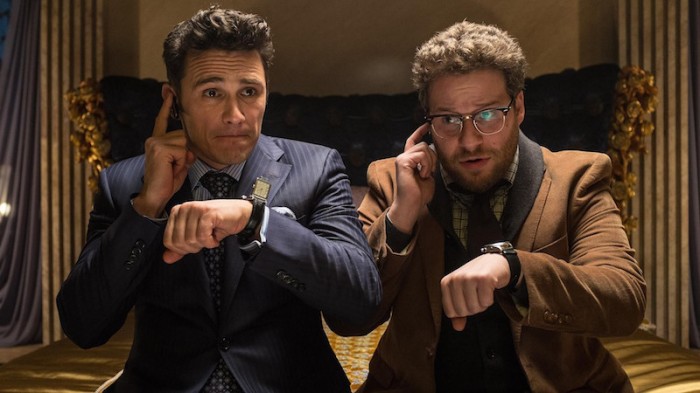 "We are deeply saddened at this brazen effort to suppress the distribution of a movie, and in the process do damage to our company, our employees, and the American public. We stand by our filmmakers and their right to free expression and are extremely disappointed by this outcome."
Sony's decision caps a whirlwind day, which saw the nation's five biggest theater chains cancel plans to screen "The Interview" on Dec. 25. Regal Entertainment, AMC Entertainment, Cinemark, Cineplex Entertainment and Carmike Cinemas pulled the comedy following a terror threat made Tuesday by hackers who had attacked Sony Pictures.
"Due to wavering support of the film 'The Interview' by Sony Pictures, as well as the ambiguous nature of any real or perceived security threats, Regal Entertainment Group has decided to delay the opening of the film in our theaters," a representative for Regal said in a statement to The Huffington Post. Sony had previously placed the decision to cancel showings of "The Interview" at the feet of theaters owners.
On Tuesday, the hackers referenced the Sept. 11 terrorist attacks in a statement that threatened "the very time and places 'The Interview' be shown." Officials for the Federal Bureau of Investigation and the Department of Homeland Security acknowledged they were aware of the threat, but downplayed the likelihood of an incident.