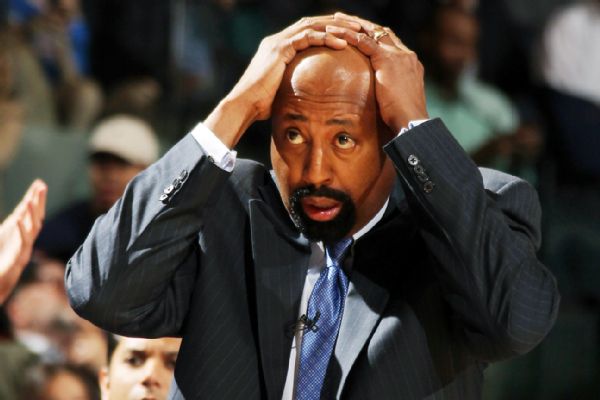 Mike Woodson was fired as coach of the New York Knicks on Monday and Steve Kerr, a leading candidate to replace him, said later in the day that he expects to hear from new team president Phil Jackson soon.
"I do anticipate talking with Phil Jackson at some point. When that time comes, it will come," Kerr said on his weekly SiriusXM NBA Radio show, his first on-the-record comments about being the potential successor to Woodson. "For now, there's really not a whole lot to talk about."
Kerr, who played for the Jackson-coached Bulls and currently is an NBA analyst for TNT, later added: "It's going to be very interesting. My name is being thrown around. I do anticipate at least being a part of the conversation and we'll see where it all goes."
Kerr also was general manager of the Phoenix Suns at one point. He has close ties to Jackson, whose Bulls won three of their NBA championships while Kerr was playing. Kerr has never coached before and reiterated on ESPN Chicago's Carmen & Jurko Show on Monday afternoon that he has a desire to coach in the NBA.
"Yeah, yeah and I've been pretty open about that the last few years and I think that obviously that's one of the reasons that this is all out there," Kerr said. "… When the time comes, I'll be interested."
Woodson was fired early Monday, a decision that has been anticipated for weeks, something Kerr sympathized with.
"Coaches basically know when they go in that they are likely to be fired. It's a brutal business, it's a brutal profession," Kerr said on Sirius XM. "I think back to a year ago when the Knicks were one of the best stories in the league, they won 54 games, I thought Mike Woodson was one of the top coaches in the league. He did a fantastic job. And then everything fell apart this year for a number of reasons."
Jackson also announced that Woodson's entire coaching staff was relieved of its duties.
"I have a tremendous amount of respect for Mike Woodson and his entire staff," Jackson said. "The coaches and players on this team had an extremely difficult 2013-14 season, and blame should not be put on one individual. But the time has come for change throughout the franchise as we start the journey to assess and build this team for next season and beyond.
"Everyone in this franchise owes a great deal of gratitude to what Mike and his staff have done. We wish him the best."
Woodson had one year remaining on the three-year contract he signed with the Knicks before the 2011-12 season.
When reached for comment, Woodson said he was "doing fine."
"I'm in my office packing as we speak," he told ESPN. "I'm not really entertaining anything with the media right now. I'm just trying to clear my head. That's what I'm doing. … I'm fine. I have been doing this a long time. I'm good, really good. It's time to move on."
Shooting guard J.R. Smith, called Woodson's firing "sad."
"He was great to me. I think I got a fair shake for the first time in a while under him," Smith told ESPN. "He treated me how he wanted to be treated. It sucks, but there is nothing I can do about it.
"I think he did a great job. I think he did a good job with me. He responded to the players. It's just a sad day for him, for me and my teammates."
Jackson said he will immediately begin to conduct a coaching search to find a replacement.
The 13-time NBA champion (11 titles as a coach) is expected to seek a coach with an intimate knowledge of the triangle offense. Kerr certainly meets that criteria.