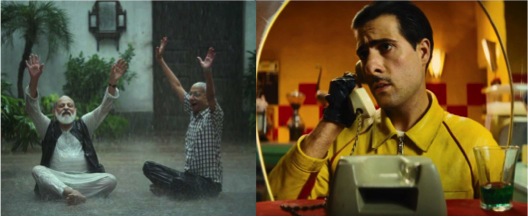 An elderly man in India is re-united with a long lost friend several decades after being forced to separate. A Formula 1 racecar driver in the 1950s reconnects with his extended family in a small Italian town after crashing his car in a race. I'm not describing new fall movies from Hollywood; these are the brief synopses of highly stylized advertisements from Google and Prada, which employ the art of storytelling to engage audiences and generate brand awareness. Will this kind of longer-form advertising catch on in our digital society, where we multitask and snack on chunks of content for only seconds at a time?
Both of the advertisements use storytelling techniques such as the development of characters and plots that contain story arcs. In the emotional Google advertisement, Reunion, a woman re-unites her grandfather with a man named Yusuf, who had been her grandfather's childhood friend until the two were separated by the 1947 partition of India and Pakistan. At various points during the three-and-a-half minute advertisement, the granddaughter relies on the Google search engine to find the information she needs to track down Yusuf and reunite him with her grandfather. The movie relies on slick production values to relate the story, and the Google brand appears as a product placement:
As Dan Lyons comments on Hubspot, "The message of the video is clear: We're Google, and the work we do is making the world a better place."
The Prada short, Castello Cavalcanti, is even more of a movie and less of an advertisement. Directed by Wes Anderson, the 7-minute movie stars Jason Schwartzman as the racecar driver who discovers the joys of slowing down after being stranded in a small Italian town.
The Prada branding in Castello Cavalcanti is even more subtle. When the storyline takes hold, you have to look closely to catch the Prada name appear on the back of the uniform worn by the driver.
The Hollywood Reporter says that the move "rivals Ron Howard's Rush for best Formula 1 racing movie of 2013." And, this is not the first time Prada has joined forces with a legendary director to produce a short film. In 2012, Prada presented A Therapy, directed by Roman Polanski and starring Helena Bonham Carter and Ben Kinsgley.
Brands have been employing storytelling for quite some time, but Reunion and Castello Cavalcanti stand out for their high levels of sophistication. The ads are really akin to mini-Hollywood moments. Whether this style of advertising as storytelling takes hold remains to be seen. Not every brand has access to the likes of Wes Anderson or Google's budget. And how many brands have the creative sensibility to make these kinds of emotional films without crossing the line into Hallmark-style treacle? But both Reunion and Castello Cavalcanti are creating undeniable branding buzz for Google and Prada, generating the kind of viral PR that brands dream about. For instance, Reunion generated 4 million views in five days. Castello Cavalcanti has generated strong coverage in publications ranging from Huffington Post to Rolling Stone.
What are your favorite ads that don't feel like ads?