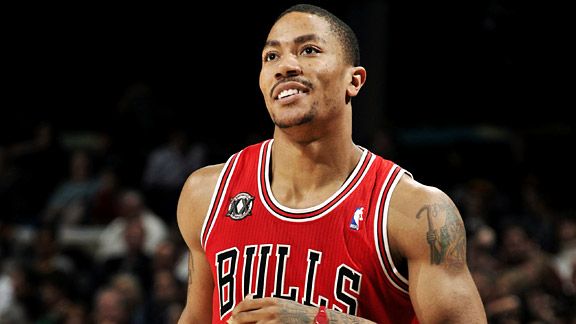 An unspecified right knee injury forced Bulls guard Derrick Rose from action during Chicago's 98-95 loss to the Blazers Friday night in Portland. He left the arena on crutches and will undergo an MRI on Saturday.
Rose departed with 3:20 remaining in the third period. He finished with 20 points (on 6-for-19 shooting), five rebounds and three assists in 28 minutes.
The injury appeared to occur without contact as he cut towards the hoop to receive a backdoor pass.
The 2011 MVP had to be helped to the Bulls' locker room after Bulls staffers initially attended to him on Chicago's bench. The extent of his injury is not yet known but the Bulls announced midway through the fourth quarter that Rose would not return to the game.
Rose tore the ACL in his left knee during the 2012 playoffs and sat out the entire 2012-13 season as he rehabilitated.
Chicago is already without starting two guard Jimmy Butler, who is sidelined with turf toe.
The Bulls are currently in the midst of a six-game road trip and will play on Sunday against the Clippers in Los Angeles.