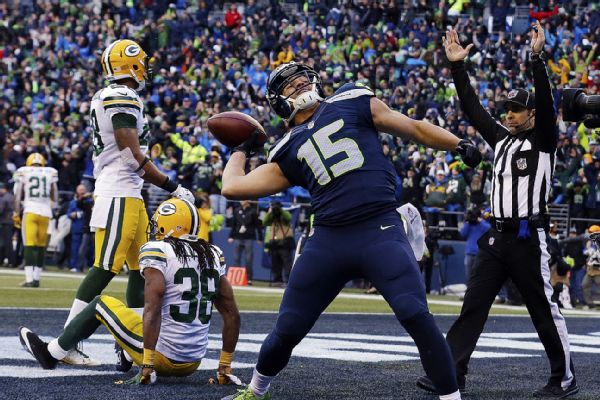 With less than three minutes to play in the fourth quarter, Seattle Seahawks quarterback Russell Wilson and wide receiver Jermaine Kearse were having the worst game of their careers.
Five times Wilson had thrown the ball to Kearse, none of which he caught. The first four throws by Wilson to Kearse were intercepted by Green Bay Packers, two of which deflected off Kearse's hands.
But Wilson gave Kearse one more opportunity, a 35-yard pass completion for a touchdown that won the NFC Championship Game, 28-22, on the first possession in overtime.
Seattle overcame the largest halftime deficit (16-0) in a conference championship game and the third-biggest deficit overcome at any point in a conference title game since the AFL and NFL merged in 1970.
"I had no doubt in my mind I was going to come down with that play," Kearse said. "Even though I had a rough game early on, Russell just kept giving me a chance and I made one."
Kearse's big play sends the Seahawks back to the Super Bowl. From zero to hero in one memorable moment.
When it was over, the normally stoic Wilson went to the players prayer circle in the middle of the field, looked up and cried.
"Yeah, I'm usually pretty calm," said Wilson, now 10-0 over the past three seasons as a starter against quarterbacks who have won a Super Bowl, including 3-0 against the Packers' Aaron Rodgers. "But I was thinking about the game and, I don't know, just the ups and down of life in the past year and people doubting us and what we could do. I was thinking about my dad and wishing he was here, but he was watching from the best seat in the house. It was an emotional time for me."
It was the 15th time in Wilson's career that he brought the Seahawks back in the fourth quarter or overtime to win a game, but never like this one. Not such an important game and not on a day in which he couldn't do anything right for three-and-half quarters.
Wilson didn't complete a pass until the 3:58 mark of the second quarter. Well, he didn't complete a pass to a Seahawk. Wilson completed two passes for 12 yards to the Seahawks in the first half. He completed three passes for 53 yards to the Packers in the first half.
The fourth pick came in the fourth quarter, a crossing route to Kearse in which the ball bounced off his hands and to Green Bay safety Morgan Burnett.
"Four interceptions when the ball was thrown my way," Kearse said. "I was like, 'What is going on?' But I never really felt sorry for myself. It's a tough game and you've got to be mentally tough and learn how to push through it.