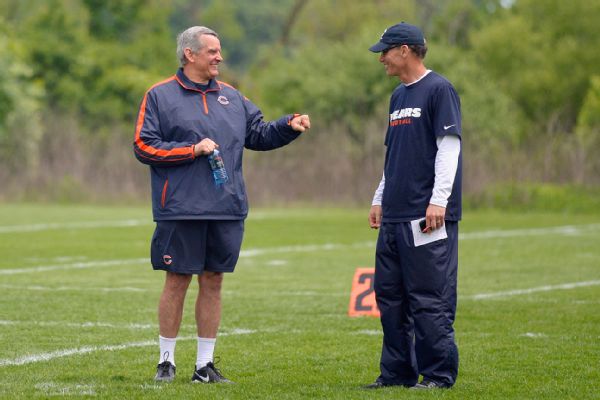 The Chicago Bears fired general manager Phil Emery and coach Marc Trestman on Monday after a 5-11 season.
In a statement, Trestman thanked the Bears organization for giving him the chance to be the team's coach.
"I also want to thank all the coaches and players who gave us everything we asked over the past two years," he said in the statement. "I have tremendous respect for this organization. Chicago is a special city with great fans. I appreciate the warm support my family and I received."
Trestman spoke to the team Monday morning before departing the team facility for the final time.
"It was the same Marc Trestman meeting we always have," Bears tight end Martellus Bennett said. "He just said said 'thank you' and that he 'appreciated' the guys. It wasn't anything different than he usually does when he comes in. He has his notes written down and he's meticulous about what he says. He's very good with the words he chooses to use.
"For coach [Trestman] I just think it's a dream deferred. I think he's a really good coach, an excellent guy, and I think he will have another chance to coach in this league."
Emery met with reporters at Halas Hall on Monday, but read from a prepared statement, and took no questions.
"This job was the opportunity of a lifetime. My only regret is we didn't win enough games for that opportunity to continue," he said in part of his statement.
"Thank you to all the Bears fans that have reached out to me the last three years, who have stopped to say hello, have extended their hand in friendship and that I've had the opportunity to have a conversation with. Your kindness does a lot more for the soul than people can imagine. To borrow a lyric or a line from Cary Newcomer: "We stand breathless on the clean edge of change." So it's time to change and move forward. Go Bears. Thanks for your time."
Several players expressed their disappointment in Emery's dismal, specifically two-time Pro Bowl right guard Kyle Long. Emery played a pivotal role in the club drafting Long in 2013 at No. 20 overall in the first round, despite Long's limited body of work in the collegiate ranks.
"It's a business, and it's unfortunate that people's jobs are at stake all the time," Long said. "I have the upmost respect for Trestman and Phil Emery. Those were the guys that stood on the table for me last year at the draft, and not many people did that for me. Those are the guys that brought me in here. I love those guys."
Offensive coordinator Aaron Kromer, who tearfully apologized to the team late in the season after admitting he was the source of a NFL Network report that was highly critical of quarterback Jay Cutler, also was fired, a source told ESPN.
Former San Francisco 49ers head coach Mike Singletary, who starred for 12 seasons as a linebacker for the Bears (1981 to 1992), would be interested in interviewing for now-vacant Bears coaching job, a league source told ESPN.
Singletary is currently working for the NFL as a senior adviser to executive vice president of football operations Troy Vincent. He'll also be coaching at the East-West Shrine Game in a few weeks.
The Bears usually go outside the box when hiring a head coach. Only once have they hired a coach who had NFL head-coaching experience, according to ESPN Stats & Information. Paddy Driscoll was actually a player-coach with the Chicago Cardinals in the 1920s before he took the Bears' coaching duties from 1956 to 1957.