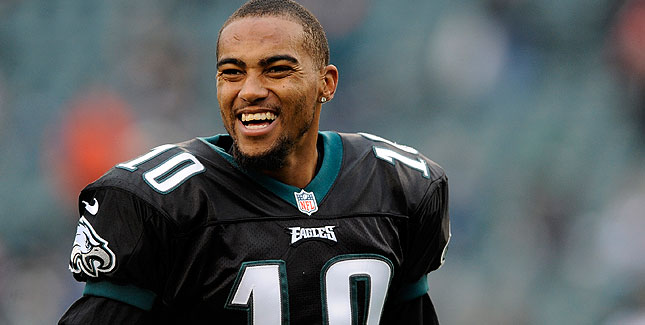 Former Philadelphia Eagles wide receiver DeSean Jackson has agreed to join the Washington Redskins on a three-year deal. The deal is worth $24 million, including $16 million guaranteed, sources told ESPN NFL Insider Adam Schefter. Jackson's addition seemed to be a certainty ever since he arrived in northern Virginia late Monday afternoon. He dined with Redskins coaches Monday night, went out with players Pierre Garcon and DeAngelo Hall later that night and met with team officials Tuesday.
Garcon and Hall have publicly stated their desire for Jackson to join the Redskins, as has quarterback Robert Griffin III.
"Very exciting player. Determined to show he is the best and hungry to win. My kinda guy," Griffin told ESPN's Britt McHenry.
The Redskins will pair Jackson with a first-time head coach in Jay Gruden. But Gruden worked in Cincinnati with longtime Bengals coach Marvin Lewis, who coaxed production out of players with off-field issues, including cornerback Adam Jones and running back Cedric Benson. Gruden was there with both players.
Jackson gives the Redskins a dynamic playmaker at receiver, something they have not had in some time. He has averaged 17.2 yards per catch in his career. The Redskins haven't had a receiver average more than 17.0 yards per catch with at least 50 receptions since Santana Moss in 2005. No other Redskins receiver with that many catches has even hit 15.0 per catch.
Only two receivers since 2008 have averaged more yards per catch  – Vincent Jackson and Malcom Floyd. Since 2008, no player has more receptions of at least 40 yards than Jackson (35), and only Mike Wallace (21) has as many touchdown catches of at least 30 yards during that period.
Jackson is coming off an 82-catch, 1,332-yard season with nine touchdowns, tying a career high in touchdowns and setting one for yards. According to Elias Sports Bureau, no player has ever switched teams within the same division after a season with 80-plus receptions for 1,200 yards or more.
But the Eagles did not release him because of his production. According to reports, they were displeased with his attitude and demeanor, and they did not view him as a good fit in the culture that coach Chip Kelly wants to build.
Shortly before Jackson's release from the Eagles on Friday, NJ.com published a story discussing alleged gang connections.
Jackson issued a statement later that day rebutting that charge: "I would like to make it very clear that I am not and never have been part of any gang. I am not a gang member and to speculate and assume that I am involved in such activity off the field is reckless and irresponsible. I work very hard on and off the field and I am a good person with good values.
"I am proud of the accomplishments that I have made both on and off the field. I have worked tirelessly to give back to my community and have a positive impact on those in need. It is unfortunate that I now have to defend myself and my intentions. These reports are irresponsible and just not true. I look forward to working hard for my new team. God Bless."