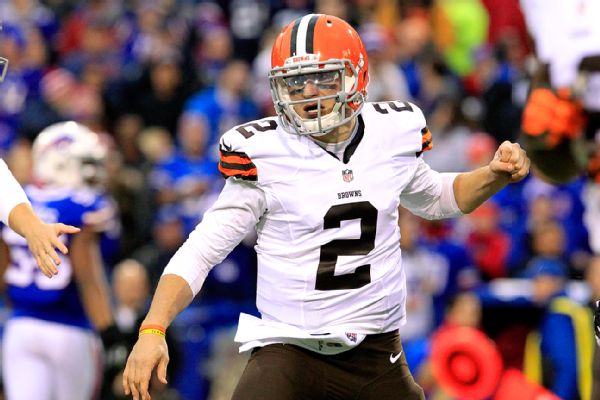 Cleveland Browns rookie quarterback Johnny Manziel will make his first career start this weekend against the Cincinnati Bengals, sources confirmed to ESPN.
The Browns informed Manziel and Brian Hoyer, who has started Cleveland's first 13 games this season, of their decision, sources confirmed.
Cleveland's choice to start Manziel was reported earlier Tuesday by Fox Sports.
Manziel is expected to arrive at the facility sometime Tuesday to begin to prepare to face the Bengals, a team source told ESPN.com's Jeremy Fowler. Manziel will not be making any public comments Tuesday as he's focused on preparation for his first start, the source said.
He is expected to address the media from the locker room Wednesday.
Browns coach Mike Pettine indicated that he was leaning toward a quarterback change during his news conference Monday, one day after Hoyer struggled in a loss to the Indianapolis Colts.
Manziel replaced an ineffective Hoyer against the Buffalo Bills on Nov. 30, and orchestrated an 80-yard touchdown drive, completing three of his first four passes for 54 yards.
Pettine was impressed with that drive but acknowledged that the Bills were playing a prevent defense and that the sequence wasn't a true test of what Manziel might have faced against Indianapolis.
Hoyer has orchestrated just one touchdown drive in his last 29 series, according to ESPN Stats & Information. He played well to start the year and led the Browns to a 7-4 record but has struggled mightily the past five games.
In Sunday's 25-24 loss to the Colts, Hoyer completed 14 of 31 passes for 140 yards and two interceptions.
The Browns selected Manziel, 22, with the 22nd overall pick in this year's draft out of Texas A&M, where he won the Heisman Trophy as a freshman in 2012.
The Browns' switch at quarterback didn't affect the oddsmakers in Las Vegas, as Cleveland stayed as a pick 'em Tuesday.
Asked if there had been any reaction from bettors to the news, Ed Salmons, head football oddsmaker at the Westgate SuperBook said, "None." Added: Nick Bodganovich, director of trading at William Hill: "Not one bit."