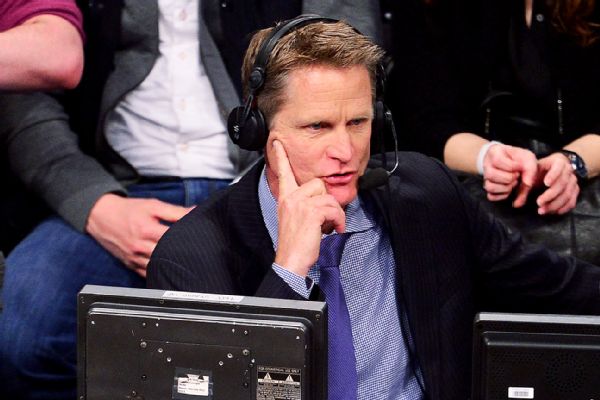 Steve Kerr has spurned the New York Knicks and accepted a five-year, $25 million offer to become the Golden State Warriors' next coach.
The draw of working close to his San Diego home factored heavily into his decision, a source close to Kerr told ESPN.com. Another league source with knowledge of the negotiations said the Knicks preferred to sign Kerr to a four-year deal rather than the five-year pact he received from Golden State.
Multiple sources said Kerr told new Knicks president Phil Jackson he chose the Warriors for family reasons. Sources also said that Kerr preferred the Warriors' job to the Knicks' job all along, but it was a difficult decision because of his relationship with Jackson.
The Warriors and Kerr's representatives, Priority Sports, confirmed the deal Wednesday night.
Kerr was represented in negotiations by Priority Sports' Mike Tannenbaum, former general manager of the New York Jets.
"It just came down to a personal decision," said Priority CEO Mark Bartelstein, who served as Kerr's agent  throughout his playing career. "These are two great jobs. There were no problems with the Knicks. This was not about what the Knicks did or didn't do. This was about Steve, in his heart, deciding that Golden State was a better fit right now for him and his family."
Kerr had been in talks with the Knicks about becoming their next coach after Jackson took over as team president in March. He won three titles playing for Jackson in Chicago and another two under Gregg Popovich in San Antonio, but has never been a head coach.
Kerr also spent three seasons as general manager of the Phoenix Suns before stepping down in June 2010.
Sources said Kerr was under the impression that the Warriors preferred Stan Van Gundy to him, but when the Detroit Pistons swooped in to land Van Gundy, Kerr became the Warriors' top choice — and he theirs.
The Warriors met Tuesday with Kerr before his TNT broadcast in Oklahoma City and appeared to remain in the running for him alongside the Knicks, according to sources with knowledge of the situation.
Sources told ESPN.com that the Warriors, after initially believing they had no shot at Kerr because he was "too deep" into his negotiations with the Knicks, started pressing him as hard as they could to try to change his mind after Golden State's other top coaching target — Van Gundy — struck a deal with the Pistons.
The Knicks, sources said, had been strong favorites to land Kerr, largely because of his longstanding relationship with Jackson.
Golden State, though, offered a roster headlined by star guard Stephen Curry and the ability for Kerr to take over a 51-win team in his home state. Kerr is a Southern California native and has lived in San Diego for years.
Kerr replaces Mark Jackson, who was fired after the Warriors' first-round loss to the Los Angeles Clippers in seven games in the wake of mounting tension between him and the front office.
The Knicks must now regroup after centering their initial search for Mike Woodson's replacement on Kerr. But sources with knowledge of the situation said that Oklahoma City guard Derek Fisher and Lakers assistant coach Kurt Rambis, both of whom are close to Phil Jackson, are likely to be considered.