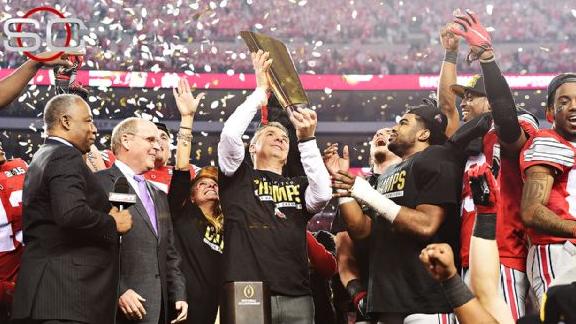 Ohio State was done when Braxton Miller got hurt in August. Ohio State was done when it lost at home to Virginia Tech in September.
Ohio State was done when J.T. Barrett got hurt in November.
A funny thing happened: Every time the Buckeyes looked done, they kept getting better. And in the new era of college football, that was enough to earn a chance to win a championship.
They took advantage of an opportunity they never would have had in the BCS, shrugging off questions about whether they belonged among college football's final four. Cardale Jones, Ezekiel Elliott and the Buckeyes won the first College Football Playoff National Championship Presented by AT&T, upsetting Marcus Mariota and Oregon 42-20 on Monday night.
Behind their bullish backup quarterback Jones and the relentless running of Elliott, the Buckeyes (14-1) completed a remarkable in-season turnaround with a dominating performance against the Ducks (13-2).
"Late August, around camp, everybody counted us out when our Heisman Trophy quarterback went down, and then when the first College Football Playoff rankings came out, we was like No. 16 or 17," Jones said. "Long story short, we weren't supposed to be here."
Ohio State began the first major college football playoff as the fourth and final seed, and was an underdog against both top-seeded Alabama and second-seeded Oregon. Plenty of people thought TCU or Baylor should have had the Buckeyes' spot.
No question about it now: Ohio State is the truest champion big-time football has ever crowned, showered by golden confetti as its band played the school's unofficial anthem, "Hang on Sloopy," after the clock hit 0:00.
"This will go down as one of the great stories in college football history," coach Urban Meyer said.
The Buckeyes overcame two injured Heisman contenders and one awful 35-21 loss to Virginia Tech to win their first national title since the 2002 BCS championship. In the BCS, the early slip to the Hokies could have pretty much eliminated the Buckeyes from the championship race.
Before the BCS's 16-year stint, it was up to The Associated Press and coaches' polls to sort out which team was best, with a little help from the bowls. The Buckeyes have three of those championships, too.
Now they can add college football's newest championship trophy to the display cases at Woody Hayes Athletic Center back in Columbus.
Meyer now has three titles, adding this one for his home state team to the two he won for Florida. He matches Alabama's Nick Saban as the only coaches to win a national championship at two schools. It has taken just three seasons for Meyer to put the Buckeyes — and the Big Ten — back on top, with a team that looks built to last.
Elliott, a sophomore, was the offensive MVP and ran for 246 yards and four touchdowns on a career-high 36 carries. In the past three games — the Big Ten championship against Wisconsin, the Allstate Sugar Bowl semifinal against Alabama and the final against Oregon — Elliott had 696 yards rushing.