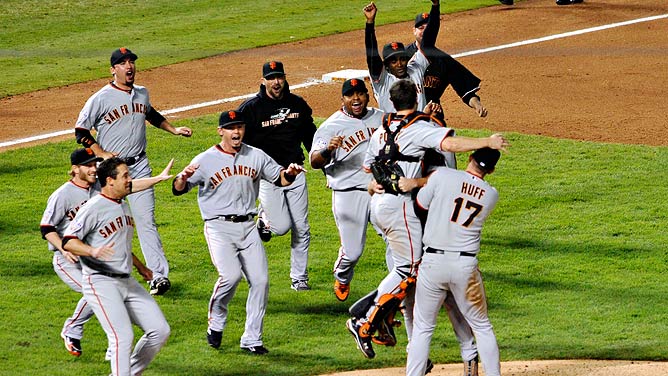 The Giants beat the Kansas City Royals 3-2 to win the World Series at Kauffman Stadium on Wednesday night in an action-packed, tense, crackerjack of a ballgame that featured both teams' managers using their top-end relief pitchers to turn a back-and-forth early outing into a scoreboard replete with zeroes in the late innings.
At the center of it all – at the center of everything this postseason – stood Bumgarner, the 25-year-old from North Carolina who in his five major league seasons already has established himself as one of the great pitchers in postseason history. His numbers this October defy belief – 1.03 ERA in 52 2/3 innings – and Bumgarner saved his finest of his series MVP performance for a five-inning lockdown in Game 7 that earned him a save and his Giants the victory.
Working on just two days' rest after throwing a four-hit shutout in Game 5, Bumgarner worked his way around a leadoff single to retire the Royals on a swinging strikeout by Lorenzo Cain in his first inning. From there, he cruised: a 1-2-3 frame in the sixth, another in the seventh, and the eighth, and finally the ninth, when he yielded a two-out single to Alex Gordonthat center fielder Gregor Blanco compounded with a two-base error.
With Gordon on third, Salvador Perez popped a two-strike pitch into foul territory. Pablo Sandoval squeezed it for the final out, a capper to one of the most impressive postseason runs in baseball history.
Bumgarner was in the game for as long as he was only because of Giants starter Tim Hudson's struggles. The starting pitchers lasted a combined five innings, with Giants manager Bruce Bochy yanking Hudson after a shaky 1 2/3 in which he allowed a pair of runs on a Gordon double and an Omar Infante sacrifice fly. It knotted the game at two after a pair of Giants sacrifice flies in the top of the second off Royals starter Jeremy Guthrie staked San Francisco to an early advantage and quieted the decibel-smashing levels of the 40,535-person crowd.