Every bit as powerful as it looks.
An elegant design that feels entirely fresh, yet inherently familiar. The apps you use every day, enhanced with new features. And a completely new relationship between your Mac and iOS devices. OS X Yosemite will change how you see your Mac. And what you can do with it.
Coming This Fall
Redesigned interface. Completely new. Completely Mac.
With OS X Yosemite, we set out to elevate the experience of using a Mac. To do that, we looked at the entire system and refined it app by app. Feature by feature. Pixel by pixel. And we built great new capabilities into the interface that put need-to-know information at your fingertips. The result is that your Mac has a fresh new look, with all the power and simplicity you know and love.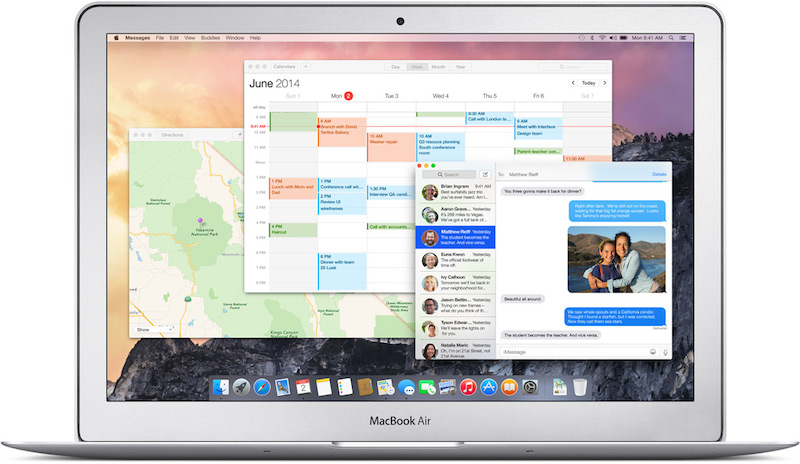 So much more to see at a glance.
The new Today view in Notification Center gives you a quick look at everything you need to know now — upcoming events, reminders, stocks, weather, and more. Add widgets from the Mac App Store to customize what you see.
Spotlight is brighter than ever.
With a new search window and rich, scrollable previews of your results, Spotlight makes it easier than ever to find things on your Mac. And now it finds information from Wikipedia, Bing, Maps, and other sources, too.
Powerful built-in apps. Do everyday things in extraordinary ways.
One of the best things about a Mac is that it comes loaded with state-of-the-art, beautifully designed apps you'll love to use every day. In OS X Yosemite, those apps give you new ways to do some of the things you do most. The apps you use to surf the web, read your mail, send messages, and organize files have a simpler, more elegant look, and we've enhanced them with great new features.

Safari
The new, streamlined toolbar in Safari puts your most important controls at your fingertips and gives you more room for what you're viewing. Safari also gives you faster performance and more control over your privacy.
Mail
Now Mail lets you send large attachments more easily. You can annotate documents and fill out forms right in your email messages. Faster performance means you'll get your email more quickly, too.
Messages
If you have an iPhone, now you can send and receive both iMessage and SMS messages right on your Mac. Add people to group conversations, and remove yourself when you want. Even record short audio clips to add your voice to the conversation.
iCloud Drive
Store any type of file in iCloud and access it on any device. With iCloud Drive, you can organize your files in the cloud the way you like, create as many folders as you want, and add tags to find files faster.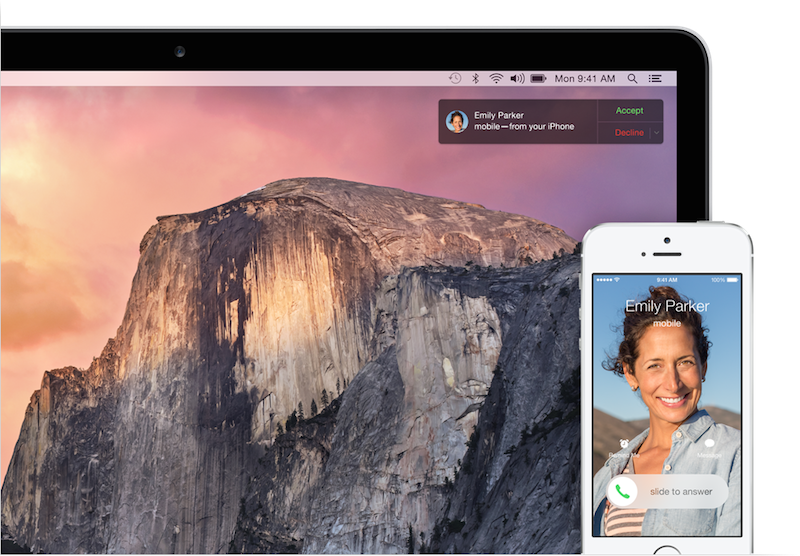 Mac and iOS. Connected like never before.
Use a Mac or an iOS device, and you can do incredible things. Use them together, and you can do so much more. Because now with OS X Yosemite and iOS 8, all your devices work together even more harmoniously. They recognize when they're near each other, enabling brilliant new features that feel magical and yet make perfect sense. Learn more
Phone
Now you can make and receive iPhone calls on your Mac. So if you're working on your Mac and your iPhone rings in another room, you can leave it there and still take the call.
SMS
The text messages on your iPhone — including SMS and iMessage — are now available on your Mac. Send and receive. Read and reply. All without picking up your iPhone.
Handoff
Now your Mac knows the last thing you were doing on your iOS device and vice versa. So you can start something on one device and instantly pick it up on another.
Instant Hotspot
Turn on the personal hotspot on your iPhone with just a few clicks on your Mac. So as long as your iPhone is nearby, you can get online with your Mac.
Apps are about to get even more amazing.
We've created new tools — even a new programming language — for app developers to build the next generation of apps and games. And that will make the Mac experience even richer for you.
Test-drive OS X Yosemite. And make it even better.
The OS X Beta Program gives you a sneak peek of OS X Yosemite before it launches. By participating in the program, you'll be able to try out pre‑release versions of OS X and let us know what you think.