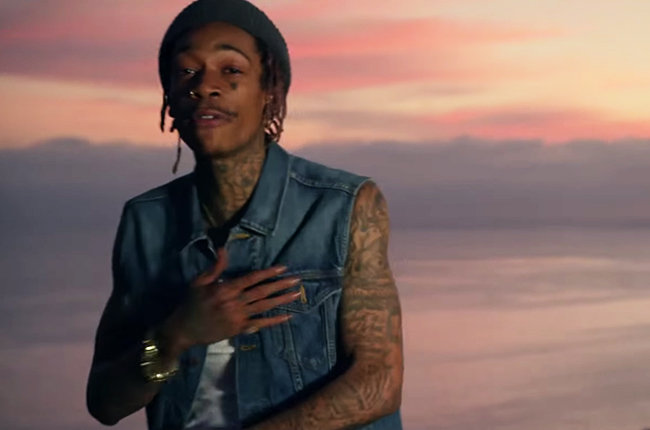 The track, featuring Charlie Puth, rockets 10-1, halting the 14-week reign of Mark Ronson and Bruno Mars' 'Uptown Funk.'
Wiz Khalifa completes a fast and furious vault to the top of the Billboard Hot 100, as "See You Again," featuring Charlie Puth, and from the box office smash Furious 7, zooms 10-1. The song stops the command of Mark Ronson's "Uptown Funk!," featuring Bruno Mars, after 14 weeks. The latter remains tied for the second-longest rule in the Hot 100′s history.
Spurring its Hot 100 coronation, "Again" holds at No. 1 on the Digital Songs chart and roars to No. 1 on the Streaming Songs and On-Demand Songs charts.
Plus, Walk the Moon takes one giant leap into the Hot 100′s top 10 with "Shut Up and Dance."
As we do each Wednesday, let's run down all the songs in the top 10, and a bit beyond, on the sales/airplay/streaming-based Hot 100 (dated April 25).
"Again," released on Atlantic Records and promoted to radio by Roadrunner Promotions, is the 1,042nd No. 1 dating to the Hot 100′s Aug. 4, 1958 launch. It's Khalifa's second No. 1, following his debut hit, "Black and Yellow, which topped the Feb. 19, 2011, chart. Puth reigns in his first Hot 100 appearance.
With the track's 10-1 leap, "Again" makes the biggest jump to the summit since … well, the No. 1 before "Funk." Taylor Swift's "Black Space" bounded 13-1 on the Nov. 29, 2014 Hot 100. (The all-time record: Kelly Clarkson's "My Life Would Suck Without You" rocketed 97-1 on Feb. 7, 2009.)