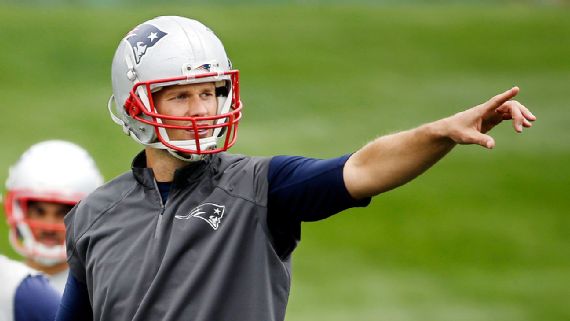 Patriots quarterback Tom Brady's four-game suspension for his role in using underinflated footballs during the AFC Championship Game was upheld by commissioner Roger Goodell on Tuesday.
In making the announcement, Goodell emphasized important new information disclosed by Brady and his representatives in connection with the hearing into what has been widely known as Deflategate.
Based on Ted Wells' report and the evidence presented at the hearing, Goodell concluded in his decision that Brady was aware of, and took steps to support, the actions of other team employees to deflate game footballs below the levels called for by NFL rules.
Goodell found that Brady's deliberate destruction of potentially relevant evidence went beyond a mere failure to cooperate in the investigation and supported a finding that he had sought to hide evidence of his own participation in the underlying scheme to alter the footballs.
"On or shortly before March 6, the day that Tom Brady met with independent investigator Ted Wells and his colleagues, Brady directed that the cell phone he had used for the prior four months be destroyed. He did so even though he was aware that the investigators had requested access to text messages and other electronic information that had been stored on that phone," the league's statement read. "During the four months that the cell phone was in use, Brady had exchanged nearly 10,000 text messages, none of which can now be retrieved from that device. The destruction of the cell phone was not disclosed until June 18, almost four months after the investigators had first sought electronic information from Brady."
Brady's appeal from that discipline the commissioner first levied in May was heard for more than 10 hours on June 23.
Attorney Jeffrey Kessler, who has had success taking on the NFL in other high-profile cases, led Brady's defense and said at one time that he had "a very compelling case" to change Goodell's decision.
That Goodell served as arbitrator was a point of contention for Brady and the NFL Players Association, which had asked the commissioner to recuse himself because of their belief he could not be impartial and might be called as a witness. But Goodell, citing the collective bargaining agreement, said it was his responsibility to oversee the hearing and protect the integrity of the league.
Wells, whose report was used as the foundation for the NFL suspending Brady and fining the Patriots $1 million and stripping them of a 2016 first-round draft choice and 2017 fourth-round draft choice, was present at the appeal hearing held at the league's New York offices.
The penalties were announced after Wells found that it was "more probable than not" that the Patriots illegally underinflated footballs in the AFC Championship Game against the Indianapolis Colts on Jan. 18. Wells also stated that Brady was "generally aware" of the Patriots illegally underinflating footballs.
Wells' report was a central part of Brady's appeal, with his attorneys arguing that it didn't prove Brady violated rules. In an official letter from NFL Players Association general counsel Tom DePaso, it was stated that the report "grasps at dubious, contradictory and mischaracterized circumstantial evidence" and that it is a "legally inadequate basis upon which to impose unprecedented discipline."
Brady's side also argued that the penalties are "grossly inconsistent" with the NFL's past discipline of similar alleged conduct.
A source told ESPN's Adam Schefter that "Tom Brady's greatest ally was Tom Brady" in the appeal hearing. Sources also told Schefter that Brady came off as genuine, earnest and persuasive, with one calling it an "A-plus performance."
Since the appeal on June 23, the NFL Players Association made a settlement offer to the NFL, according to ESPN's Dan Graziano, who reported the offer was met with "silence."
Source: ESPN