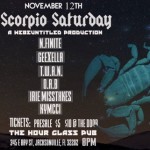 @untitledrevolution
active 2 years, 5 months ago
Base
Name

Untitled

Location

Jax, FL

Hometown

Florida

Sex
Birthday

1993-02-01

Bio

Born and raised in Jacksonville Florida's Duval County, Untitled battles life's dragons with deep thoughts and sharp punch lines. Their main goal is to make music that touches their fans and moves them as well.
Not much can keep this duo down, and while breaking into the music industry continues as a up hill struggle they keep their hearts controlled and minds focused. They've released two mixtapes entitled "Son Of Merrick," and "Lions and Tigers," and continue to produce tracks with hopes of smashing stages across the globe.
Their first music video "Sleep," can be found on their YouTube page, and future videos will also appear shortly.
If you're looking for change keep your eye on Untitled and watch as their light subdues the shadows.