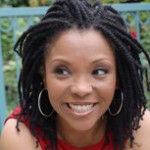 active 10 months, 3 weeks ago
"394 fans raised $53,418 to make the first ever documentary about Ruby Dee and Ossie Davis" ·
View
Name

SonyaDenyse

Location

Dream Development

Hometown

Harlem

Sex

Female

Bio

Sonya is animated creativity wrapped in a lovely piece of dust. Dream Development uses creative strategies to execute ideas.
A dream is the answer to a question we have not learned to ask. Dream Development helps people ask the questions and live the answer.

Favorite Quotations

live love

What if? Why not? Who says?