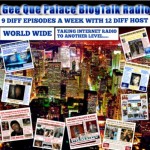 @richmonie
Not recently active
RICH MONEY WILL BE STARTING THE SHOW OFF WITH THE GEEQUE GENERAL QUESTION FROM 6pm TO 7pm THIS EVENING TOPIC: WHAT WOULD YOU DO IF YOU FOUND OUT YOUR MATE SLEEP WITH YOUR SIBLING WHILE YA'LL WAS TOGETHER 2 DAYS BEFORE YOUR WEDDING ( they response is I will explain everything after we get married) WOULD YOU STILL GET MARRIED OR CALL IT […]
View
Base
Name

GeeQue Palace Radio

Location

new york new york

Hometown

bronx

Sex
Birthday

1971-10-05

Bio

RICHARD C ARCHIBALD
AKA
RICH MONEY
BIO

Rich Money was born on October 5,1971 in the Bronx at the old Lincoln Hospital.

Rich Money was into music since he was 2 years old. His uncle Reginald Cooper was the one who Introduced him to the rap game. At the age of 14 , he became teamed up with a friend name Troy Hill. Rich Money and Troy did a talent show at the Savoy Manor on 149th street in the Bronx. They came in first place but was cheated out of the deal and the winnings. This caused great disappointment to both partners, which eventually led to Troy leaving the group. So Rich Money then decided to go on as a solo artist.

At this time, Rich Money did a demo and sent it to various record labels. He then got a reply from Robert Hill CEO of Zakia and Profile Records whom at the time had Eric B & Rakim as well as King Sun on his label. Robert Hill liked his style and asked him to come in to sign a contract. At that time Rich Money started doing track with producer name Kevin who had connections with Doug E. Fresh. So this was a chance for Rich Money to move on and make his mark. He then did a music video at a club called The World in Brooklyn, New York. Rich Money was with Robert Hill for three years but still wasn't put out to perform. So he later decided he wanted a release from the label which at first Robert Hill did not want to give him. In the end, he finally gave in and let Rich Money go.

Rich Money moved on and met Bea Montgomery who offered him a deal to join her management called Up in Coming Stars and the opportunity to perform at the club Sweet water's that was located on Amsterdam Avenue at the time . Now Rich Money had a chance to show his talent. As soon as he got on stage the crowd applauded, As he spoke his lyrics the crowd went wild and rocked along with him. When he got to the chorus the crowd chanted with him. He then went on to do a cable TV show on channel 23 while still performing at Sweet water's.

The people loved this rapper who they considered to be a talented young man from the Bronx. He was gifted with the mentality to do music. Rich Money was seen as not just an entertainer but a crowd pleaser and lyrical scientist. Bea Montgomery saw and respected his talent and let him move on with his hopes of attaining a greater success.

As time went by, Rich Money met Derrick Williams from Too Hot Records.. Derrick heard that Rich Money had talent and wanted to hear his lyrics. Before he could finish displaying his skills, Derrick stopped him quickly and wanted to sign Rich Money to his label. Rich Money agreed and things started looking better. Rich Money then had a contract with a independent label called Too Hot Records. Rich Money did tracks with Robert Swinger who was Chubb Rock's Producer at the time along with Jay Michaels. All the songs that was recorded by Rich Money the Label agreed were hits. But once again, things went wrong and the label turned out to be a bad deal. Once again, Rich Money had to move on, as time went by Rich Money then got A call from a child hood friend Derrick Gatling whom inform him he was starting a Record Label called Spice Drop Records with a pioneer rapper name Charlie D from the the group Rock master Scott & The Dynamic 3 whom made the songs "REQUEST LINE & THE ROOF IS ON FIRE" and they wanted Rich Money to join they Record Label as a artist,Rich Money agreed and now had another chance to show his talent,he was ask to write a remix for the song THE ROOF IS ON FIRE for Charlie D when Rich Money finish the remix for the song it was a mister piece and every one on Spice Drop Records agreed things was starting to look up again for Rich Money then came the time for the label to release they first artist,Charlie D felt sense he was a pioneer and known for his music he should be the first one to be released off the label Derrick Gatling disagree and thing got complicated the situation never got resolve and the label wined up being unsuccessful,Rich Money still keep his strive and later on was inform about a manager looking for up incoming artist that lived in Bronxdale Projects where Rich Money was from he then met Jeff Osborn whom heard his song and liked his material,he informed Rich Money that he was going to work with him as soon as he finish working with a female artist he was dealing with Rich Money decided to move on instead of waiting for Jeff and later on found out the female artist he was dealing with was Alicia Keys.

Even though things did not work in the past, Rich Money is still not discouraged. He has now devoted his time to One of the Hottest and Biggest shows on Blog Talk Radio called GeeQue Palace where he is the Founder, Ceo & Host of the show. The show airs every Friday from 6-9pm the call in number is 646-200-3838 press 1 to speak to the guest or host or stay on the line to hear the show if you are on your pc you can go to BLOGTALKRAIO.COM then type in GeeQue Palace also press like & follow the show. The show helps promote Up in coming Artist, Pioneers, Authors, Producers, Deejays', Records Labels,Magazines,Promoters & Etc….. Rich Money knows in his heart this is where he is suppose to be. So watch out world cause this Founder ,Ceo/ Host is still ready to take the world by storm on a whole new level on
OCTOBER,21,2011
Richard Archibald started Geeque Palace Radio Love & Entertainment as for his name He called his self Rich Money on the air he had some of the biggest name's in the music business on the show like
Popa Wu Father Of The Wu Tang Klan, The Force MD's, Grand Puba, Cuban Link, Charles Hardy From The Manhattans, William Hart From The Delfonics, Walter Williams From The O'Jay's,
Sha Rock, Greg Hill From The Delfonics Revue, Super Love Cee & Casanova Rud, Mix Master Ice From U.T.F.O, Mikey D, L.A Sunshine, and that's just a few he had some of the biggest Authors on like
K.L Belvin, Stanley Epps, Minister Author Lisa Dixon, Author Tellie Wells, Author Tonya D Simmons
he had some of the biggest Promoters on like Myswaggeriscrazy, Black Silk, Bossgoonberg, Terence Dean, Robert V Cruze and that's just a few he had Film Directors on like Oscar Sanders,
Casey DeeDee Johnson, Comedians like Wallace St Clair, Shawn Harvey, he then started to expand his Radio show as of today Rich Money his 6 different episode a week with 8 different host on Monday from 7-9pm Love Life & Loyalty with Steff Dallas after Steff Dallas on Mondays from 9-10pm it's Relation Lies & Deceit with Dr Feelgood on Tuesday from 8-10pm it's GPS/ Geeque Palace Sports with The Mayor on Wednesday from 8-10pm it's Love Fantasy with The Diva Squad Rachel H Smith, Tee C Holland & Michelle Shelly Jackson on Friday from 6-9pm it's Love & Entertainment with CEO/HOST Rich Money and Sunday from 7-9pm it's Spiritual Sunday with Levina Polite
One thing about Rich Money he's a honest humble caring kind nonjudgmental person that thinks about others before he thinks about his self and his plan is to help others as much as he can he always thinks of others first, he now have Geeque Palace Records that he started this year 2013 and Geeque Palace Magazine Published April 2012 by his Fiance who is also his Executive Produce Levina Polite one thing I know about Richard Archibald aka Rich Money is Palace Records in to Motown so watch out cause Rich Money is taking the world by storm like I said on a whole new level…. his goal is to turn GeeQue Palace Radio in to Hot 97 turn GeeQue Palace Magazine in to Ebony and turn GeeQue Palace Records in to Motown so watch out cause Rich Money is taking the world by storm like I said on a whole new level…

Favorite Quotations

GEEQUE PALACE "LOVE & ENTERTAINMENT"
"ITS BUTTER BABY"
OOOOWWWWW!!!!!