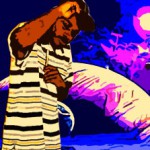 Ohio kidnap case hero gets burgers for life

The man who famously put down his Big Mac to help rescue three women held captive for a decade in an Ohio house will never have to pay for another burger in his hometown.

Charles Ramsey has been promised free burgers for life at more than a dozen Cleveland-area restaurants.

The (Cleveland) Plain Dealer (http://bit.ly/10SPuf4 ) reports that the restaurant where Ramsey worked as a dishwasher initially created a special burger in his honor, but eateries in the city decided a larger tribute was due.

Ramsey was called a hero after helping Amanda Berry, Gina DeJesus and Michelle Knight break out of the house May 6. Ariel Castro is now facing charges.

The newspaper says Ramsey was traveling and would get his "Chuck Card" when he returns.

London attackers known to British security services

Two British men of Nigerian descent accused of hacking a soldier to death on a London street in revenge for wars in Muslim countries were known to security services, a source close to the investigation said Thursday.

One man, filmed calmly justifying the killing as he stood by the body holding a knife and meat cleaver in bloodied hands, was named by acquaintances as 28-year-old Londoner Michael Adebolajo – a British-born convert to radical Islam.

So frenzied was the attack, some witnesses thought they were trying to behead and disembowel the victim.

The attack, just a month after the Boston Marathon bombing and the first Islamist killing in Britain since local suicide bombers killed 52 people in London in 2005, revived fears of "lone wolves" who may have had no direct contact with al Qaeda.

British media said police raided homes of relatives in the city and near the town of Lincoln. Adebolajo and the other man, who may have been born abroad and later naturalized as British, are both in custody in hospitals after being shot by police.

Prime Minister David Cameron held an emergency meeting of his intelligence chiefs to assess the response to what he called a "terrorist" attack; it was the first deadly strike in mainland Britain since local Islamists killed dozens in London in 2005.

"We will never give in to terror or terrorism in any of its forms," Cameron said outside his Downing Street office.

"This was not just an attack on Britain and on the British way of life, it was also a betrayal of Islam and of the Muslim communities who give so much to our country. There is nothing in Islam that justifies this truly dreadful act."

He said there would be a review of how intelligence had been handled – Adebolajo had been known to authorities for handing out radical Islamist pamphlets in Woolwich.

The two men had been considered to pose no serious danger to the public until the attack, according to a government source.

Another source close to the inquiry said the local backgrounds of the suspects in a multicultural metropolis – nearly 40 percent of Londoners were born abroad – and the simplicity of the attack made prevention difficult:

"Apart from being horribly barbaric, this was relatively straightforward to carry out," the source said. "This was quite low-tech and that is frankly pretty challenging."

Anjem Choudary, one of Britain's most recognized Islamist clerics, told Reuters Adebolajo, was known to fellow Muslims as Mujahid – a name meaning "warrior": "He used to attend a few demonstrations and activities that we used to have in the past."

He added that he had not seen him for about two years: "When I knew him he was very pleasant man," Choudary said. "He was peaceful, unassuming and I don't think there's any reason to think he would do anything violent."

A man called Paul Leech said on Twitter he had been at school in the east London suburb of Romford with the man seen claiming the attack: "Michael Adebolajo u make me sick," he wrote. "How could someone who was a laugh and nice bloke at school turn out like that. I'm ashamed to have known u."

DAYLIGHT ATTACK

The two men used a car to run down 25-year-old Afghan war veteran Drummer Lee Rigby outside Woolwich Barracks in southeast London and then attacked him with a meat cleaver and knives, witnesses said. The pair then told shocked bystanders they acted in revenge for British wars in Muslim countries.

Rigby, who had a two-year-old son, was not in uniform. The bandsman had been working as an army recruiter in London

A dramatic clip filmed by an onlooker showed one of the men, identified as Adebolajo, his hands covered in blood and speaking in a local accent apologizing for taking his action in front of women but justifying it on religious grounds:

"We swear by almighty Allah we will never stop fighting you. The only reason we have done this is because Muslims are dying every day," he said. "This British soldier is an eye for an eye, a tooth for a tooth."

The attack revived fears of "lone wolves". These may have had no direct contact with al Qaeda but are inspired by radical preachers and by Islamist militant Web sites, some of which urge people to attack Western targets with whatever means they have.

Images of the blood-soaked suspect – who urged Britons to overthrow their government or risk having their children face the fate of the dead soldier lying just yards away – were splashed across the front pages of newspapers; so too were links to his clearly spoken, matter-of-fact video statement, made as the pair chatted calmly to bystanders before police arrived.

"We have all seen images that are deeply shocking," Cameron told reporters before visiting the barracks in Woolwich. "The people who did this were trying to divide us."

In Nigeria, with a mixed Christian-Muslim population and where the authorities are battling an Islamist insurgency, a government source said there was no evidence the Woolwich suspects were linked to groups in west Africa.

British investigators are looking at information that at least one of the suspects may have had an interest in joining Somalia-based Islamist al Shabaab rebel group which is allied to al Qaeda, a source with knowledge of the matter said.

Al Shabaab said on Thursday that such attacks were inevitable and linked the attack to the Boston bombing and last year's gun attacks in the southern French city of Toulouse.

"Toulouse, Boston, Woolwich … Where next? You just have to grin and bear it, it's inevitable. A case of the chickens coming home to roost!" the rebels said on Twitter.

IRAQ, AFGHANISTAN

The grisly attack took place next to the sprawling Royal Artillery Barracks in Woolwich, a south London working class district which has long-standing historic links to the military and is home to many immigrant communities, including Nigerians.

Rigby, who served in Afghanistan in 2009, was wearing a T-shirt reading "Help for Heroes", the name of a charity formed to help wounded British veterans. Britain has had troops deployed in Afghanistan since 2001 and had troops in Iraq from 2003-2009.

Witnesses said they shouted "Allahu akbar" – Arabic for God is greatest – while stabbing the victim and trying to behead him. A handgun was found at the scene.

Some onlookers rushed to help the soldier an one woman to engaged the attackers in conversation to calm them down.

"He had what looked like butcher's tools — a little axe, to cut the bones, and two large knives. He said: 'Move off the body,'" said French-born former teacher Ingrid Loyau-Kennett.

"He said: 'I killed him because he killed Muslims and I am fed up with people killing Muslims in Afghanistan.'"

A trained first aider and Cub Scout leader, Loyau-Kennett was on a bus which was held up by the incident and she got off to try to help the victim. She found he was already dead.

Her attitude and that of other passers-by who remonstrated with the attackers was held up by Cameron as an example of resistance to attempts to terrorize the population:

"When told by the attacker that he wanted to start a war in London," Cameron said, "She replied, 'You're going to lose. It's only you versus many.' She spoke for us all."

'HELP FOR HEROES'

London was last hit by a serious militant attack on July 7, 2005, when four young British Islamists set off suicide bombs on underground trains and a bus, killing 52 people and wounding hundreds. A similar attack two weeks later was thwarted.

In 2007, two days after police defused two car bombs outside London nightclubs, two men suspected of involvement, a British-born doctor of Iraqi descent and an Indian-born engineer, rammed a car laden with gas into the Glasgow Airport terminal, setting it ablaze. One of the attackers died and the other was jailed.

Britain has long known political violence on the streets. In 2009, two British soldiers were shot dead outside a barracks in Northern Ireland in an attack claimed by Irish republicans.

Woolwich, too, has seen attacks before. A soldier and a civilian were killed by an IRA bomb at a local pub in 1974. The barracks itself was bombed in 1983, wounding five people.

Since the 2005 bombings, known as 7/7, security chiefs say they have faced at least one plan to carry out an attack on the level of those attacks and have warned that radicalized individuals posed a grave risk to national security.

Peter Clarke, who led the investigation into the 7/7 bombings, said that if the Woolwich attackers did turn out to be acting alone, it showed the difficulty the security services faced in trying to stop them.

"An attack like this doesn't need sophisticated fund raising and sophisticated communications or planning," he told Reuters. "It can be organized and then actually delivered in a moment."

The bombing attacks on the Boston Marathon last month, which U.S. authorities blame on two brothers, have raised the profile of the "lone wolf" threat in the West. A Frenchman with Algerian origins killed three off-duty French soldiers and four Jewish civilians on a rampage in southern France last year.

Britain's involvement in the wars in Afghanistan and Iraq in the past decade has often stirred anger among British Muslims and occasionally made soldiers a target at home. British police have foiled at least two plots in which Islamist suspects were accused of planning to kill soldiers, including by beheading.

Cameron's office officials had welcomed the condemnation from most mainstream British Muslim groups and that the national security committee had discussed community cohesion.

In signs of a backlash after the attack, more than 100 angry supporters of the English Defense League, a far-right street protest group, took to the streets late on Wednesday.

Separately, two men were arrested in connection with separate attacks on mosques outside London. No one was hurt.

By Guy Faulconbridge and Michael Holden

Tesla pays off $465 million U.S. loan nine years early

Elon Musk may not be Tony Stark, but he's doing a credible impersonation of Lee Iacocca.

The co-founder of Tesla Motors set another milestone for his electric car company today by making a final $451.8 million payment on the $465 million loan from the U.S. government — nine years earlier than scheduled. The massive payment came courtesy of a stock offering last week that raised $1 billion for the California automaker, made possible after it revealed its first quarterly profit. The move makes Tesla the only automaker to have paid back its Department of Energy loan in full — yet another talking point for Musk's EV drive.

Now comes the hard part.

It's fair to point out that other automakers received far larger loans from the Advanced Technology Vehicle Manufacturing program; Ford borrowed $5.9 billion, while Nissan took $1.4 billion, both for modernizing plants and vehicles to build hybrid and electric vehicles. It's equally fair to note both have far more resources than Tesla to pay back those loans and attempt to reap a similar victory lap to the one Iacocca made after paying off Chrysler's bailout early in 1983.

Tesla's pay-off marks a rare bit of good news for the Department of Energy program, which has seen its loans to Fisker and an Indiana start-up end in shuttered companies. When it was made in 2010, the loan gave Tesla credibility among private investors, something rival EV startups which couldn't get such backing were never able to generate.

"I would like to thank the Department of Energy and the members of Congress and their staffs that worked hard to create the ATVM program, and particularly the American taxpayer from whom these funds originate," Musk said in a statement. "I hope we did you proud."

Whatever goodwill Musk can generate from paying the loan early will be needed on the hard road ahead; fighting to sell Teslas without dealers, raising revenues to make up for EV credits that added more than $60 million in the first quarter and developing the Model X SUV due late in 2014 and other models. Musk has already warned that Tesla won't make a profit this quarter, and other luxury automakers have begun to take note of his success. Running an automaker is like managing a nuclear reactor; it's a powerful machine at full strength, but a few small mistakes can lead to a meltdown. Just ask Lee Iacocca.

By Justin Hyde

JD wrote a new blog post: Daft Punk's 'Random Access Memories' Set for No. 1, 300,000-plus Debut 5 hours, 31 minutes ago · View

As  previously reported , Daft Punk is heading for its first No. 1 album on the Billboard 200 chart with its latest album, "Random Access Memories." The Columbia Records set, released on May 21, could sell upwards of 300,000 copies by week's end on May 26, according to industry prognosticators. That could earn the second-largest debut week [...]

JD wrote a new blog post: QUOTE OF THE DAY 5 hours, 42 minutes ago · View

"Incredible change happens in your life when you decide to take control of what you do have power over instead of craving control over what you don't."
-Steve Maraboli,

JD wrote a new blog post: West Coast Defender 5 hours, 56 minutes ago · View

Scouring the the globe for vintage Defenders, West Coast Defender is a new company out of Los Angeles, CA who thoroughly restore Land Rover's gloriously boxy four-wheelers with all the modern essentials while staying true to the Defender DNA. Upgrades include stitched leather interiors, navigation, Bluetooth, premium sound systems, and LED front and rear light [...]

JD wrote a new blog post: Please Meet: Jermaine Dupri (Hip Hop Mogul) – Part 2 6 hours, 11 minutes ago · View

JD wrote a new blog post: Did you party with RJ and Jermaine Dupri on Tuesday? 6 hours, 24 minutes ago · View


Via NYDailyNews reports:

A rapper on his way to buy fruit and vegetables found himself at the center of a media whirlwind — after he started live-tweeting the beheading of a British soldier on a London street.

Boya Dee picked up more than 20,000 new followers Wednesday after he gave an engaging first hand account of how he saw "two men chopping a mans head off with a machete."

He wrote about the chaotic scenes, which unfolded after the trooper was run down on a Woolwich sidewalk at about 2:20 p.m., on his Twitter page @BoyaDee.

His eye-witness account saw him spiral into Twitter orbit, and he was subsequently bombarded by prominent TV stations from across the world for interviews.

RSo far he has not taken them up on their offer.

It's led some to speculate that the account is fake and he was simply repeating what he had seen on the TV news.

But the depth of his knowledge, with many of the things he said not being officially confirmed until hours later, suggest it is true.