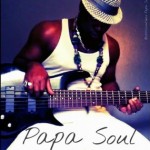 @nosakherepapasoul
active 3 months, 3 weeks ago
Base
Name

NosakherePapaSoul

Location

Chicago, IL

Hometown

Memphis

Sex
Birthday

1977-02-16

Bio

NEW MUSIC promo Video: https://www.youtube.com/watch?v=xlY6TyiPOKc

Add Papa Soul to your SPOTIFY playlist [email protected] https://open.spotify.com/album/6vHseHRa0alhqvN4KuiaEo

Put Papa in your favs list on [email protected]

https://itunes.apple.com/us/album/ambassador-truth-love-light/1424624636?app

Grab it now on [email protected] https://store.cdbaby.com/cd/nosakherepapasoul25

This very entertaining, high powered, compelling music- drops you right in the middle of an adventerous spiritual warfare already in progress!!!.

Join the [email protected] my NEW official [email protected]

https://nosakherebell8.wixsite.com/papasoulmusic/home-1

——————————

Ambassador- (Truth Love Light).

This artfully blazing body of work- Is an extraordinary up close and personal viewing from artist Nosakhere Papa Soul's one of a kind perspective. Directly into the life sized window of human and spiritual experience. Including the good, bad, and the less explainable experiences in which we all may identify. Inventively expressed through one of a kind smooth-edgy-cool, musical execution. Given with powerful vision. In the leading favorite styles of r&b, hip-hop, soul, & soundtrack rendition.

A most popular crew of the finest instruments. Such as Electric rocking lead guitar, Pulsing bass, permeating piano, & dancing djembe drums. All take their roles and place in the ride. Armed with all accompanying sound to blast you through this dynamic vehicle of musicality.
With artful imagination that taps no breaks for conventional boundaries. Yet intuitively these songs know the purpose of entertainment. Connecting your every excitable emotion to get you there in style.

Now lets proceed as artist Nosakhere Papa Soul himself with truth and literal scripture gives you the real.

Ambassador?,… Me?. well,.. humbly yes I believe so. For I believe in God and He is truth, love, and light. To Him be all the glory forever.

Now then we are ambassadors for Christ, as though God did beseech you by us: we pray you in Christ's stead, be ye reconciled to God.
2 Corinthians 5:20 KJV

A wicked messenger falleth into mischief: but a faithful ambassador is health.
Proverbs 13:17 KJV

As a child of God, ambassador of truth and a visionary. I truly enjoyed a most exciting and wonderful time. Bringing this creative expression from my unique perspective. This was a one of a kind journey filled both with enlightening fun and challenging frustration. Having a good strong healthy sense of adventure, and high tolerance for the clever and deliciously complex. I enjoyed every minute of it. This body of work is from a blessed vision I received. By the grace of God years ago. As it was quite long in the making and revelatory in the conception of its kind. Many obstacles were overcome and multiple battles fought to bring it to pass. Both in this earthly realm as well as the spiritual realm. This dramatic but fun fact becomes quite apparent the moment you listen.

For we wrestle not against flesh and blood, but against principalities, against powers, against the rulers of the darkness of this world, against spiritual wickedness in high places.
Ephesians 6:12 KJV

But I never fought alone, God was with me all the way.
Ye shall not fear them: for the Lord your God he shall fight for you.
Deuteronomy 3:22 KJV

Now I could tell you in painstaking detail what I went through. But it would only be redundant as I have already said it best. In these 17 songs you are now hearing in the audio play button/links. All including vocals, hooks, hot rap bars, and epic soundtracks. You will experience well entertaining climbs and drops!. Hard curves, gut checking momentum. Adrenaline rushes and heart pounding intensity!. Along with deep heart felt words, melodies, & lyrics with timeless impression. All delivered with powerful, yet smooth creative design. Yes I purposely made my entire CD available for you free to listen. Click the download or order the CD as you wish. Though much appreciated, my real gift from you is not the purchase itself. Its the blessing to be well received and shared with others. In something we are all apart of, know and love. Sweet music!.

Why compose a body of work like this?. Its my nature to nurture and work out the gift my God worked within me. I believe we as human beings and ambassadors for Christ. Should allow His gifts and light to shine within us all.

Let your light so shine before men, that they may see your good works, and glorify your Father which is in heaven.
Matthew 5:16 KJV

I embrace all of God's inspiration alive within and all around us. Both in body and in spirit. This is fearlessly and authentically expressed. No matter how you may like your performance delivered to you musically. Whether it be traditional or not. The message can be discerned as truthful by those who may do so. On the whole, we all as humans in our humanity can easily relate.

I keep a reminder not to take myself too seriously. That's why I have such an element of uninhibited funtastic adventure in my music. Yet all the while as an adult my understanding has both matured and evolved. As passionate as I can be. I am a man with both good qualities and my own share of flaws. I am a sinner in need of God's light, love and guidance always as we all are. Be it admittedly for some or not. But God doesn't call those who are already qualified. God Himself qualifies all those who He calls. I am a man with both amazing gifts and humbling weakness. But God is made strong in my weakness.

And he said unto me, My grace is sufficient for thee: for my strength is made perfect in weakness. Most gladly therefore will I rather glory in my infirmities, that the power of Christ may rest upon me.
2 Corinthians 12:9 KJV

Yet through it all I am always a man of great faith. As all the things I have overcome in life. Serve not only to strengthen my faith. But as testimony. To share with and encourage the lives of others.
But without faith it is impossible to please him: for he that cometh to God must believe that he is, and that he is a rewarder of them that diligently seek him.
Hebrews 11:6 KJV

You might say I'm a protagonist of sorts with a heart for a greater humanity. If you ask me why I share such a strong spiritual message. Especially something that in the hands of evil. Has been used to divide innocent hearts and souls. I simply say this. There is always a force of negativity. Darkness takes no days off. I live with God's light within. It is His will for us as His children to share that in our own honest and gifted ways. In my experience. A lie told repeatedly by liars. Although in a liar's hopes of forging it as truth. Doesn't make the truth any less the truth!. So always live and stand in your truth, and may your truth always rest in God who is the ultimate truth.

Jesus Christ the same yesterday, and today, and forever.
Hebrews 13:8 KJV

Truth is the most powerful leader, than can never be assassinated. For those who care to live by it, its rewards are unparallel.

Jesus saith unto him, I am the way, the truth, and the life: no man cometh unto the Father, but by me.
John 14:6 KJV

Yes I certainly do understand and even enjoy what many may label as intensely biblical or deep. Every time I hear the word fanatic I get tickled. Mostly because I'm no different than many of you. I have the same needs, share the same experiences. Even lick my fingers after a delicious homemade chocolate cake same as you do. I just don't apologize for being in absolute awe of Christ Jesus and things both supernatural and eternal. As a Christian and human being, there is already enough excitement, challenge, mystery, adventure, glory, power, anointing, and absolute love. In simply being who you are already created to be in God. Now I will only ask you,.. Are you excited enough in knowing this to courageously become all God created you to be?. He already made you enough, so why not embrace it all?. I hope your response is yes. Because you are needed, well blessed and the world is already enjoying your gifts as well and waiting to see much more!. To all of you shining bright with Gods light within you already my brothers and sisters of every ethnicity and beautiful design. Yes you!. Keep on shinning!. Always humbly delighted to help and embrace others in need. While always being helped and embraced yourselves, Graced and enriched by Truth, Love, and God's Light as well.

We have life on earth as human beings for only so long. But we have eternal life in Christ Jesus.
For the wages of sin is death; but the gift of God is eternal life through Jesus Christ our Lord.
Romans 6:23 KJV

So God's truth will always stand as it is everlasting. It will continue to be received and told by all who are of God and love Him. Because God is Love. This is why I share the message of the love of God. As an ambassador for truth, love, and light. May it stir up much love and empowerment to the Ambassador in you.

And we have known and believed the love that God hath to us. God is love; and he that dwelleth in love dwelleth in God, and God in him.
1 John 4:16 KJV

Thankyou Lord for giving me the courage and wisdom to never waste my pain.
There's enough darkness going on in the world today especially under (some) of its current governmental leadership. This is no surprise to any viewing the news. People are well aware of their own need for (Truth, Love and Light). No one of us alone could ever bring all the light to the world necessary. (spoiler alert)- Christ Jesus has already perfectly and absoloutly done so. Its up to us to receive that light.

Then spake Jesus again unto them, saying, I am the light of the world: he that followeth me shall not walk in darkness, but shall have the light of life.
John 8:12 KJV

Everybody's got choices. Yes the struggle out here is very real. However I believe an artist who only expresses what is financially profitable. Has bankrupted his own truth and cheated his own soul. Influence is a unified effort.
As a man my message is not one designed for fortune and fame. Nor for simple worldly approval. But instead one of sweet enjoyment, empowerment, and life awareness. With the hope to shake up that awareness in those who thirst for truth, love, and light in their own lives and the lives of others. In a really fun and cool way. It's a message for those with ears to hear the truth, eyes to see what's real and meaningful. With a heart to enjoyably receive the things of the light from the Spirit of God.

Moreover he said unto me, Son of man, all my words that I shall speak unto thee receive in thine heart, and hear with thine ears.
Ezekiel 3:10 KJV

Now what are you waiting for?. Strap in tight and enjoy the music!!!.
Later, after done listening to my Ambassador album- and reading this current bio.
Enjoy a more in depth audio show/podcast on all things Truth, Light & [email protected]
https://nosakherebell8.wixsite.com/lifeawareness

I appreciate you spending this time with me and my musical expressions. Thank you for listening and sharing your experience. Remembering always God Is Love!.

Favorite Quotations

GOD IS LOVE

Let me speak with you on matters of the heart!.