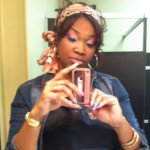 Brandy @msbeehivin

?
active 5 months, 3 weeks ago
"Looking for a hairstylist, nail technician, or MUA (makeup artist) in the D/M/V area..? Email me for an appointment:
MsBeeHivin@gmail.com
. PLEASE SERIOUS INQUIRIES ONLY! ALL OTHERS WILL BE SPAMMED!! To preview a little of my work, find me on Instagram [...]" ·
View
Sorry, there was no activity found. Please try a different filter.