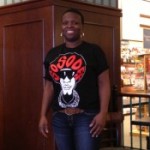 I creep in here, then creep right back out! lol @dmac ready for this new music bruh!

If you don't have JE & Raheem DeVaughn albums, I'm questioning your love for true RnB lol

I personally was able to let it go, 13yrs ago. I literally just asked the Lord to help me, and the taste was gone. I drunk a glass of wine on my bday..that's about it

Gifting hot new music (for those who have an itunes acct) "Love Come Down" by JE, Am Now by D-Mac, AYO by Chris Brown & Tyga…and She Wildin by Fabolous feat. Chris Brown…
Celebrityministr.tumblr.com

margo commented on the blog post Living The Life is back 5 months, 3 weeks ago · View

I GOT "FAMOUS" FEAT. MISHON ON REPEAT!!!
MAKE SURE YA'LL DL ROYCE RIZZY MIXTAPE

Happy Birthday to Me! I just want to take a moment to thank the LOVE OF MY LIFE: My Lord And Savior Jesus Christ! He literally turned my whole life around…right into the plan He spoke into me before I was ever formed in my mothers womb! All I want is to fulfill the purpose He spoke into me! I know as long as I'm doing what He called me to do then my family are good @itsquiiii @qua_sloan Christian KeAmber I love you guys and I'm so thankful God blessed me with you! To my son in heaven…even by the age of 4 you did exactly what you were sent to do! Thank you for watching over us Christopher! To my friends (you know who you are) may God continue to bless you and keep you! 2014 is our year!!!