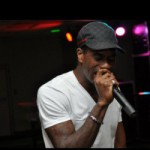 active 9 months, 3 weeks ago
Name

KrainkCity O-Dot

Location

Washington

, DC
Hometown

DC

Sex

Male

Birthday

January 1, 1983

Bio

The Self proclaimed "Denzel Washington of Rap, " goes by KrainkCity
O-dot a high energy Washington DC area Hip Hop artist. Who is also 1/4
of the Committee KrainkCity, (President of KrainkCity). KrainkCity
O-Dot portrays the reality of the young people in the DMV and the Hip
Hop world alike. Coming from an athletic background which came to a
hault due to injury in College. O-Dot picked up music shortly after
rappin in a rap group called "WorldWide Links" signed to former
Baltimore Ravens Jermaine Lewis in the early-mid 2000′s. After that
Venture O-Dot linked up with a long time childhood friend DC Dave to
which you now have KrainkCity. (DC Dave, O-Dot, Rochino). Creating a
Buzz with the hit record "Thanks 2 Da Haterz" produce by BraveStarr he
started dominating local open mics and showcases. KrainkCity O-Dot
released a mixtape project in 2010 called "Off Papers." getting him
attention of promoters, local radio DJ (DJ Flava), internet radio, &
booking agents. KrainkCity O-dot has open shows for various artist
such as Maino, The Recipe Band, Crime mob, Nappy roots, Jahiem, B.y.b,
and J.y.b just to name a few. KrainkCity O-Dot is now currently
working on his newly yet to be titled release in July 2012. Eddie
Kanyne internet Radio Personalist for WLVS says " he think its going
to be a great summer for KrainkCity." KrainkCity O-dot has introduce
his sound to a few cities and states on the east coast displaying his
energetic perfomance and unique sound. KrainkCity O-Dot has an
authoritative sound that is the key ingredient missing from other Hip
Hop artist. Dj Flava from WKYS compares "O-Dot voice & delivery to
some the great Activist; such as Martin Luther King & Malcom X." O-Dot
also was featured on Dj Flava 2 serie Mixtape "We R DMV." which did an
amzing 4500+ downloads with no radio or street promo. With his
attitude of a born leader, style, & finesse he relates to his audience
using vivid imagery and explosive word play, clever punchlines &
fetish for money, name brand shoes & fashion. Jermaine Lewis quoted
"O-Dot has been under my wing from childhood to NFL Career, to signing to my
production company "Kick Off Prouction, " to him making his own moves
with music with no help & straight orignality. KrainkCity O-Dot is
long overdo for success, " Says Ex Ravens Super Bowler Jermaine Lewis.
Life has been anything but easy for the business man/rapper.
KrainkCity O-dot has been through many trials and tribulations, from a
near fatal car accident to facing serious criminal charges stemming
from a long sting operation. But through it all he has remained focus
and determined to make music his fans love. KrainkCity O-dot's passion
for music can be felt in every line of his lyrics. With his rhythmic
vibe O-dot commands the attention of his listeners and crushes the
competition with attitude, charisma, lyrical ability, style.

Favorite Quotations

"Thanks 2 all da haters

, you've couldnt have made me greater!