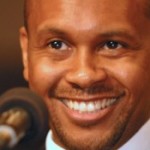 active 17 hours, 45 minutes ago
"MINNEAPOLIS-ST. PAUL, SATURDAY, JUNE 22, @ 10:45am: Kevin Powell will be the guest speaker at the 5th annual "Community Empowerment Through Black Men Healing Conference." At Metro State University, St. Paul Campus. Theme for the 2013 conference is "Healing the [...]" ·
View
Seriously what exactly do you think goes though one's mind when deciding to put a LIVE eel in one's bum????

http://www.huffingtonpost.com/2013/04/09/eel-removed-from-man-stuck-colon-photo_n_3046785.html
Eel Removed From Man After Getting Stuck, Chewing Through Colon

A man in China's southeastern Guangdong province admitted himself to a local hospital after he reportedly got a live eel stuck inside him. According to British tabloid The Sun, the man inserted the 20-inch-long Asian swamp eel into his anus after seeing it done in a porn movie, and he had to endure all-night surgery to have it extracted.

According to a HuffPost translation of a blogger's post on Chinese message board forum Mop.com, the eel reportedly chewed through the man's colon, perforating his large intestine, and became stuck in his body cavity. A graphic X-ray image (seen below) shows how far inside the eel was when the man came in for treatment.

Medical team members reportedly said the eel, which was "simply trying to find its way out," was alive when removed but died shortly thereafter. According to The Sun, the man is still recovering at the hospital and might face animal cruelty charges.

The Asian swamp eel — also known as the rice eel or rice paddy eel — is a snake-shaped fish that is commonly sold live at food markets in East Asian countries.

Although this type of eel is known as an invasive species in parts of the United States, this isn't the first time that it's made its way into (ahem) foreign habitats.

In 2012, a New Zealand man had to have an eel removed from his posterior. In 2010, a Chinese man died after his friends allegedly inserted an eel into his rectum as a joke.

Sheila posted an update in the group ★Global GR8ness★ : 2 months ago · View

Hope everyone is having a great night

Ali Cole posted an update in the group Cooks/Chefs/Bakers: 4 months, 1 week ago · View

So I made Split Pea Soup and I decided to share the recipe with you guys……

2 tablespoons unsalted butter
1 cup chopped onion
Kosher salt and freshly ground black pepper
1 tablespoon minced fresh garlic
12 ounces dried green or yellow split peas, picked over and rinsed
5 cups chicken broth
1 tablespoon curry powder
Directions
Place the butter into a large (4 to 6-quart) saucepan over medium-low heat. Once melted, add the onion and a generous pinch of salt and sweat for 2 to 3 minutes. Add the garlic and continue to sweat for an additional 1 to 2 minutes, making certain not to allow onions or garlic to brown.

Add the peas, chicken broth and curry powder. Increase heat to high and bring to a boil. Reduce heat to low, cover and cook at a simmer until the peas are tender and not holding their shape any longer, approximately 45 to 50 minutes. Taste and adjust seasoning as needed. Using care and a stick blender, puree the soup until the desired consistency.