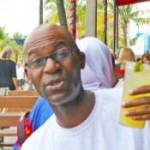 In reply to

-

KMonroe

posted an update:

Kevin Hart's Ex Sounds Off on Comedian Torrei Hart, Kevin Hart's ex and star of VH1's upcoming reality show Atlanta Exes, does not mince words about her ex-husband in this sit-down with ET's Rocsi Diaz. She even admits that she's wanted to punch his new love in the face! Tameka Raymond had a [...]

·

View

Lance Aka L.A. and [email protected]">Ms.Money$ TWITTER @officialmsmoney BOOKINGS- [email protected] are now friends 5 months, 3 weeks ago · View

Thanks Destiny! Sorry I'm 2 weeks late on the replay

Lance Aka L.A. posted an update: 9 months, 1 week ago · updated 8 months, 2 weeks ago · View

The first show for Talking Shop


My recent video project for Shaq Diesel


There really are no true "exits" just entrances to what is supposed to come next for us. Leaving is much more difficult if you aren't looking forward.

My most recent video project.