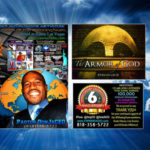 @donjrceo
active 9 months, 1 week ago
Base
Name

DON JR CEO

Location

Los Angeles, CA

Hometown

St. Louis, MO

Sex
Birthday

1978-03-22

Bio

#EWWNRADIO The Impressive Concepts, Inc. http://impressiveconceptsinc.com/
The hottest promotional company on the planet.

We specialize in: Viral Marketing, Website Development, Website Hosting, Internet Audio Presentations (IAP),Voice Over Talents, Professional Beat Production, Publicity, Radio/Record Promotions, Consulting, Corporate Identities, Event Planning & Promoting, Printing, Graphic Designing, CD Pressing(Duplication),Voice on Hold, Radio Commercial Production, Massive Email Campaigns, T.V./Radio Commercials Production, Video Production & File Conversion.

All the services provided by 35 companies. Join the movement.
To find out more visit our site. http://impressiveconceptsinc.com/ 818-358-7522 http://ewwnradio.com

Favorite Quotations

Jesus is the light of the world and he is waiting on you!