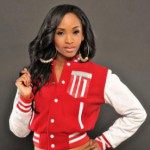 active 1 year, 3 months ago
Name

Cherlise

Location

Miami

, Florida, USA
Hometown

Miami

Sex

Female

Bio

There are many sides to Cherlise.
On her forthcoming debut album for Universal Republic Records/Division 1, the musical temptress delivers sexy pop hooks with a hip hop strut and soulful swagger. She can go from a personal, heartfelt ballad to a bona fide club banger in the blink of an eye. At the same time, she elevates choruses to heaven and hypnotizes with every flawless dance move. A modern diva-in-the-making, Cherlise is the whole package and so much more.
Cherlise began cultivating her diverse style at a very young age. Growing up in Miami, she was the middle child in a family of ten kids. Her parents were pastors, so her first performance experience came belting out solos in the church choir. However, things changed during a fifth grade talent show. The young songstress performed a Whitney Houston favorite and received a standing ovation. Her mother was in attendance and immediately began pushing her to pursue music.
While listening to everything from Beyoncé to Lauryn Hill, she spent her teen years balancing her dream and school. In order to record her demo, she cleaned a local studio in exchange for recording time. She'd cut tracks at night after the studio closed down and eventually that demo would lay the foundation for the next phase of her career.
While her sister was on the set of a Fat Joe music video in 2008, Cherlise reluctantly visited. By chance, she met her current manager Percy who introduced her to Fat Joe. Hearing her demo, the influential rapper was immediately hooked and opened the door for her to meet multi-platinum songwriter and producer, Rico Love [Usher, Beyoncé, Kelly Rowland] in 2009.
"It was unexpected, but it was definitely destiny, " recalls the singer with a smile. "Rico became my collaborator and we worked together constantly for the next two years."
Rico Love properly introduces Cherlise via the explosive debut single "Love You Right" featuring Lil Wayne. Produced by Love, this hyper-charged anthem boasts a seductive hook from Cherlise and a sleek verse.
Cherlise reveals, "The record encompasses me as an artist. The rap influence is there, but the bridge gets sassy. The chemistry between Wayne and me flowed so naturally. The song is about seeing a good guy, and he's with a girl who's not really treating him right. It's a spin on a classic theme. I'm not hating; I'm simply saying I can probably love him a little better."
She does everything "a little better". Opening for the likes of Ludacris and Bobby Valentino, Cherlise has a fire on stage that immediately gets crowds moving along with her. While she was developing and growing as a musician, she even managed to graduate from college simultaneously. She comes from a different background, and that's why she's so captivating.
The music speaks for the haves and the have-nots. I want to connect with everyone."
With everything she's got going on, she undoubtedly will.

Favorite Quotations

Excuses are tools of incompetence that build monuments of nothing, those that dwell upon them are seldom good at anything it is best to thought of a fool than to opens one mouth and remove all doubt.