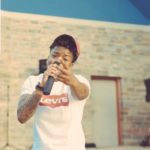 @cbabiiofficial
active 3 years, 7 months ago
It's Official. I'm now part of the Rock Off Tour presented by The Music Plugz and Featuring DJ Ro. This Tour begins August 7th through August 31st. Sending a s/o to my team at ahp entertainment and ftp music group.
View
Base
Name

Crystall Babii

Location

Frederick, MD

Hometown

Brooklyn, NY

Sex
Birthday

1996-08-17

Bio

Crystall​ Babii Music Bio
Half Barbadian and half Trinidadian Crystal
McLeod was born on August 17, 1996 in Brooklyn New York to Bernadette and Junior
McLeod. At the age of 10 Crystal's family decided to move to Hagerstown MD from
Brooklyn. With a middle class up bringing Crystal knew all types of races
ranging from asian, white Jewish and black families.  Many of them supported Crystal in her singing
which began around the age of eleven. While in Junior high school, Crystal
would listen to Michael Jackson, Beyonce, Missy Elliott, Lauren Hill &
Snoop Dog which were some of her major influences which started her rapping and
singing.  While playing Basketball at
North Hagerstown High School, Crystal would sign-up at talent shows throughout
Maryland.   She was runner up out of 900 young girls in
Ms. young Maryland talent contest. Although she initially wanted to play
college basketball after high school her drive for music grew stronger and her
parents recommended she pursue her dream. In the 2000's Crystal formed a group
called the MOB gang with two of her neighborhood friends. Over the years MOB
gang would record renditions of their favorite artists.  In 2008 crystal began to write and record her
own songs. It was then when she met Damon Smalls who seen how special she was
and began to work with her on her music career. Since 2016 Crystal has
performed in cities throughout the East coast, wining music showcases and
building her fan base with Hot songs like F. W. U, Hot Boy, Red Roses and Gucci
In My Bag.  Now at the age of 20 Crystal
is ready to take her career to the next level. Crystall Babii and ATeam Music
have teamed up with Dwaine Downton and Oralndo Flintroy from FTP Music Group to
take her music and career to the next level. With a style and image of her own,
Crystall Babii's music will be the next big thing to come out of the DMV area.

Favorite Quotations

I seen this great quotation on a sign: "Great Things Never Come From Comfort Zones".

I Want To Inspire People. I Want Someone To Look At Me And Say "Because Of You, I Didn't Give Up".
Contact Information
| | |
| --- | --- |
| Email | |
| City/Town | Hagerstown |
| Zip | 21701 |
| Country | United States |
| Web Site | |
| Twitter | twitter.com/lover_4_kicks |