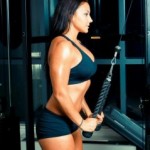 active 6 days, 12 hours ago
Name

Alicia Bell

Location

Toronto

Hometown

Plaster Rock

, NB
Sex

Female

Birthday

November 10, 1983

Bio

Ebook: http://www.trainitright.com/blog/store
Youtube: http://www.youtube.com/trainitright
Website: http://www.trainitright.com
Twitter: http://www.twitter.com/trainitright

Over 10 years of practical and educational experience in the training and fitness industry, Since 1997, Alicia has attended multiple High School, Provincial, Canadian National, Canada Games and Canadian University levels in Track and field as an elite athlete. Alicia is also a nationally recognized sprinter and coach who has a passion for helping people achieve their goals. Alicia also has worked with celebrities such as former NBA player Rashad Mccants and Lil Jon. Whether you're looking to lose weight, tone, gain speed or work on your flexibility Alicia can work with your needs and goals to help you achieve your goals in a timely, healthy and efficient manner. Alicia combines structure, assessments and reassessments as well as life coaching to help you be as successful as possible.