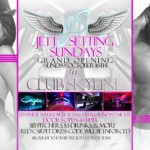 Public Group
active 3 months ago
JETT SETTING SUNDAYS 645 WASHINGTON AVE MIAMI,FL. DOORS OPEN AT 10.
Natasha Moneat(TRE BOY ENT) posted an update in the group TRE BOY MIAMI: 3 months ago · View

TRE BOY ENT (MACON) PRESENTS SMOKE FROM FIELD MOB MARCH 1 FIRST FRIDAY. COME OUT TO GUILT NIGHT CLUB 4173 CAVALIER COURT MACON,GA !!!!!!!