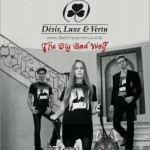 Public Group
active 1 year, 1 month ago
Welcome on the Page Of Désir,Luxe&Vertu, a new brand of teeshirts about billionaires for billionaires or not… In the world of Désir,Luxe&Vertu you will find a line of exclusives teeshirts with the head of the top fortune that the world has ever known.
Unusual billionaires with an incredible charisma and … Oh well who cares, they are billionaires !
Isn't it awesome to wear a t-shirt portraying a man who can offer himself hundreds of trips on the moon ?
Each month a limited edition will be issued for all of you searching for a t-shirt that nobody else has.
Stay tuned on this page and share the experience of Désir,Luxe&Vertu with us. T-shirts available for sale from the 15th of January on http://www.desir-luxe-vertu.com
Sorry, there was no activity found. Please try a different filter.