Celebrity & Guest Blogs
GOTTA GO CHECK HIM OUT ONE MORE TIME !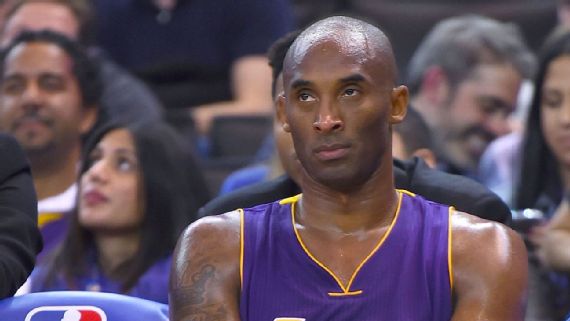 Kobe Bryant, who helped the Lakers win five NBA championships over a 20-year career spent entirely in Los Angeles, announced Sunday on The Players' Tribune website that he will retire after this season, writing that "this season is all I have left to give."
In a first-person story titled "Dear Basketball," the 37-year-old wrote in the form of a poem that the sport "gave a six-year-old boy his Laker dream/And I'll always love you for it."
"But I can't love you obsessively for much longer," Bryant wrote. "This season is all I have left to give. My heart can take the pounding. My mind can handle the grind but my body knows it's time to say goodbye.
"And that's OK. I'm ready to let you go."
Lakers coach Byron Scott said Bryant will play in Sunday's game against the Indiana Pacers and emphasized that the star guard's "purpose is to finish out this season and play."
"I think he still loves this game," Scott told reporters. "He still has a passion for it. He's still a competitive young man."
Scott said he was "shocked" when Bryant informed him Saturday night that he was going to announce his retirement the following day.
"He kind of shocked me when he told me," Scott said. "[I'm] just sad more than anything. Just sad more than anything. Somebody who I truly care about, have a lot of respect for. I think it's always hard when greatness like Kobe decides to hang it up."
Bryant's decision is not totally unexpected, given that he has said many times in recent weeks that he has considering making this season his last. After two decades, two Olympic gold medals, five championship rings, 17 All-Star selections, an 81-point game that ranks as the second-best in NBA history and more than 32,000 points, Bryant's career is officially winding down.
"With 17 NBA All-Star selections, an NBA MVP, five NBA championships with the Lakers, two Olympic gold medals and a relentless work ethic, Kobe Bryant is one of the greatest players in the history of our game," NBA commissioner Adam Silver said in a statement. "Whether competing in the Finals or hoisting jump shots after midnight in an empty gym, Kobe has an unconditional love for the game.
Source: ESPN