Celebrity & Guest Blogs
I KNOW @battlezone51 ISNT HAPPY TO SEE THIS !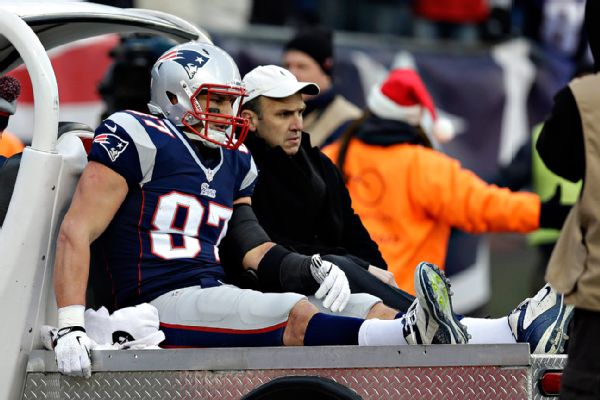 Tight end Rob Gronkowski tore the ACL and MCL in his right knee during the New England Patriots' 27-26 comeback victory Sunday over the Cleveland Browns, a league source told ESPN NFL Insider Adam Schefter on Monday.
Patriots coach Bill Belichick said Monday that he didn't expect to receive positive news on Gronkowski's injury.
"Rob's going to have some more tests today, but that situation doesn't look too good," he said. "We'll wait until we have a final evaluation to confirm or do anything."
Gronkowski suffered the injuries in the third quarter after hauling in a pass up the seam from Tom Brady. The two-time Pro Bowler took a direct hit to his right knee from Browns safety T.J. Ward and fell to the ground, clearly in pain.
Brady said Monday the Patriots' formula at tight end must shift without Gronkowski.
"You just have to find a different formula," Brady told the "Dennis & Callahan Show" on WEEI sports radio in Boston, when asked whether the team's other tight ends are capable of doing what Gronkowski does. "I think that's the important part. And Gronk provides a certain margin of error because of how talented a player he is, and the other guys play different roles for us."
The Patriots have two other tight ends on the roster, veterans Matthew Mulligan and Michael Hoomanawanui, who missed his third straight game Sunday. In addition, fullback James Develin has taken snaps at tight end on an as-needed basis.
"Those roles are going to have to shift, kind of what we did on the last two drives of the game," Brady said. "We had four receivers at points, at different points we had more [tight ends] with Develin and Mulligan on the field."