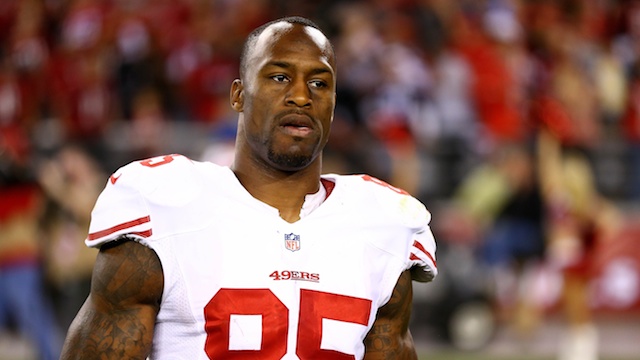 Less than 24 hours after the Denver Broncos had their biggest offensive output of the season, the team dove into the trade market to acquire tight end Vernon Davis from the San Francisco 49ers.
In return for Davis and a 2016 seventh-round pick, the 49ers will get the Broncos' sixth-round pick in 2016 and 2017, Broncos executive vice president of football operations and general manager John Elway confirmed.
"The key here is how quick can we get him involved, and I think we can do that very fast," Broncos coach Gary Kubiak said on SiriusXM NFL Radio. "That's why we made the move, because we want to get him in here, get him as involved as we possibly can and help this offense continue to move forward."
Davis, who has 441 receptions for 5,640 yards and 55 touchdowns in his career, should fit easily into the Broncos' offense. Kubiak has repeatedly said he would like to use more two-tight end sets.
"We're excited to add Vernon to the roster," Elway said. "He's a guy that adds great experience, great speed. [He has] been a team leader for the Niners for a long time. He'll be a great addition, a big weapon for us because of the speed that he has."
A two-time Pro Bowler, Davis has missed two games this season because of a knee injury, and he has seen his playing time decrease. When Davis didn't start against the Baltimore Ravens in September, it marked the first time since he was a rookie in 2006 that he did not start a game for which he was healthy.
Davis spoke briefly about the possibility of being traded in the Niners' locker room after Sunday's 27-6 loss to the St. Louis Rams.
"It's a possibility, and there's nothing I could do about it," Davis said. "I'm always prepared for anything. Nothing surprises me."
Source: ESPN