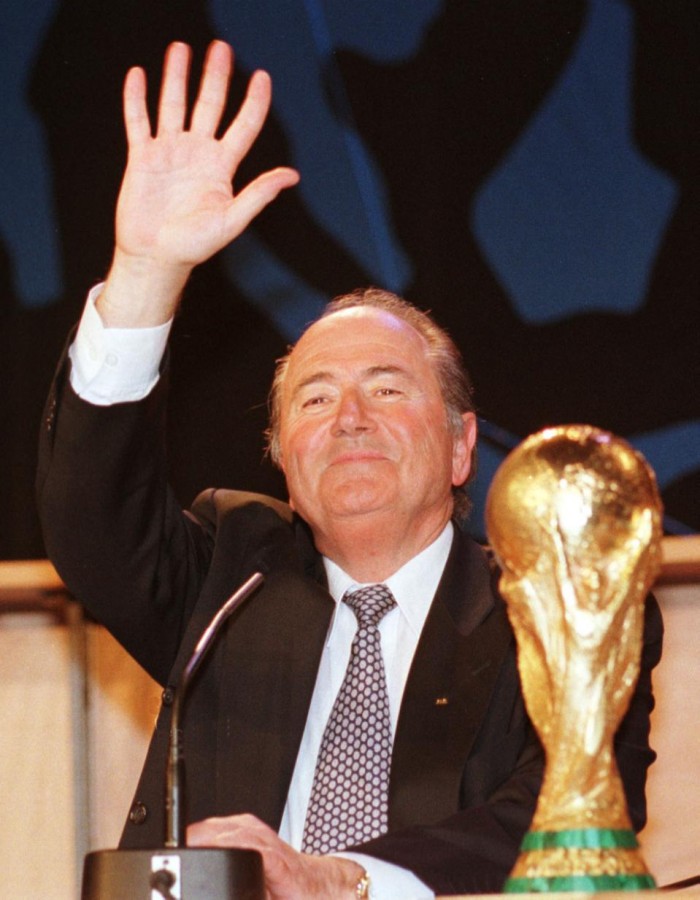 Swiss authorities are arresting several top FIFA officials and plan to extradite them to the United States, where they will face federal corruption charges.
The New York Times says that more than a dozen plain-clothed Swiss law enforcement officials arrived unannounced at Zurich's Baur au Lac hotel in the early hours of Wednesday morning as leaders of FIFA gathered for their annual meeting.
The charges allege there has been widespread corruption throughout football's governing body over the past 20 years, involving bids for World Cups as well as marketing and broadcast deals.
Six officials were initially arrested, though more than 10 officials, including vice presidents Jeffrey Webb and Eugenio Figueredo and former executive committee member Jack Warner, face charges of wire fraud, racketeering and money laundering, according to the Times.
In a statement, the Swiss Federal Office of Justice said U.S. authorities suspect the officials of having received or paid bribes totaling millions of dollars. It says the U.S. Attorney's Office for the Eastern District of New York is investigating these individuals on suspicion of the acceptance of bribes and kick-backs between the early 1990s and now.
An FOJ statement said: "The bribery suspects — representatives of sports media and sports promotion firms — are alleged to have been involved in schemes to make payments to the soccer functionaries — delegates of FIFA and other functionaries of FIFA sub-organizations — totaling more than $100 million.
"In return, it is believed that they received media, marketing, and sponsorship rights in connection with soccer tournaments in Latin America. According to the U.S. request, these crimes were agreed and prepared in the U.S., and payments were carried out via U.S. banks."
The Wall Street Journal reported that prosecutors plan to unseal indictments in New York as early as Wednesday, when recently appointed U.S. attorney general Loretta Lynch and FBI director James Corney are expected to host a news conference.
The arrests come just days before the vote for Friday's vote for FIFA president, in which Sepp Blatter is widely expected to win re-election to a fifth term.
Blatter was not among those charged on Wednesday morning, the Times reported.
Warner led CONCACAF, the FIFA confederation that oversees North and Central America and the Caribbean, from 1990 until 2011, when he resigned amid evidence of corruption. A CONCACAF report later revealed that he received millions in misappropriated funds, though FIFA stopped its investigation when he resigned.
Webb succeeded Warner and is the current president of CONCACAF, which oversees the United States Soccer Federation and 40 other national associations.
Figueredo is the president of CONMEBOL, the South American confederation which includes powerhouses Brazil and Argentina.
The Times identified Costa Rica federation president Eduardo Li as one of those detained at the hotel in Zurich. Police escorted him from the hotel without handcuffs and with his luggage, according to the newspaper.
Allegations of corruption among FIFA have hit a new high since 2010, when the body awarded the 2018 World Cup to Russia and the 2022 World Cup to Qatar — two countries embroiled in human rights investigations.
A whistleblower told the The Times of London that she witnessed multiple African FIFA officials receiving bribes of $1.5 million for their votes on the World Cup.
FIFA then began an investigation into the bids in 2012, but its full report has not been made public and its author, former U.S. attorney Michael Garcia, has slammed the integrity of the summary released by FIFA's ethics committee.