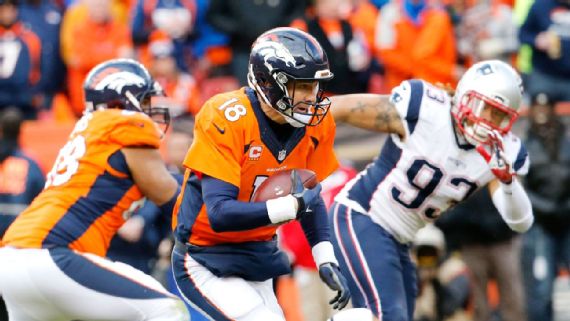 People often ask Denver Broncos chief football decision-maker John Elway why he left the comforts of the life of a Hall of Fame quarterback, and an array of successful businesses, to come back to the game.
Just as people often ask Peyton Manning why, after spinal fusion surgery that kept him out of the 2011 season and a left foot injury that kept him out of seven starts this season, he decided to keep pushing to get back on the field.
The answer for both men played out Sunday as the Broncos earned the franchise's eighth trip to the Super Bowl, the second in four seasons, with a 20-18 victory over the New England Patriots in the AFC Championship Game at Sports Authority Field at Mile High.
Manning finished 17-for-31 for 176 yards and two touchdowns.
The defense also did its part with two interceptions and four sacks of Patriots quarterback Tom Brady. The defense also prevented what would have been a tying two-point conversion with 12 seconds left. The Patriots were 2-of-15 on third downs (13.3 percent), their worst third-down conversion rate in a postseason game in the Brady/coach Bill Belichick era. In their two losses to the Broncos this season, the Patriots were 4-of-28 on third downs (14.3 percent).
The Broncos' victory is a chance for Elway to keep a promise he made to Manning in 2012, that if he signed with the Broncos, Elway would do everything in his power "to make sure he finishes his career the way I finished mine."
Elway's finish was the most coveted in the athletic world, back-to-back championships in his final two seasons. He raised the Lombardi Trophy and rode off into the football sunset. Manning is 39 years old and even he knows his career sunset is approaching. He has often said, "I can see the light at the end of the tunnel."
Source: ESPN