The new single is part of Jermaine Dupri's upcoming EP and new partnership with Empire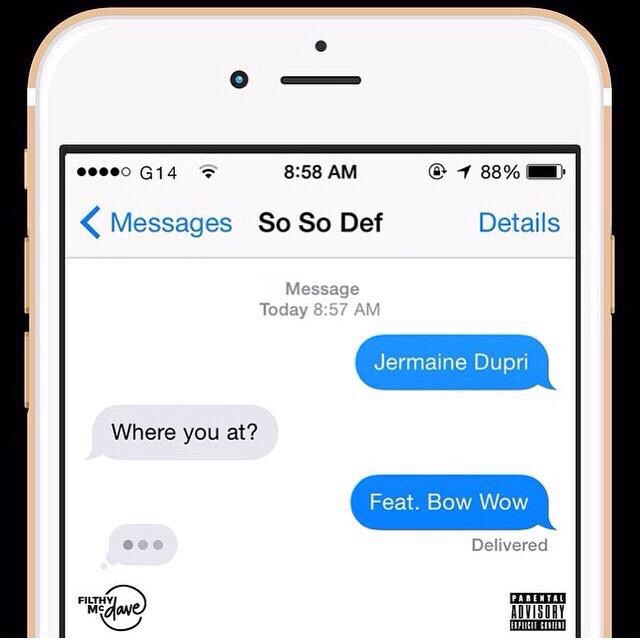 Los Angeles, CA – May 22, 2015 –The legendary music imprintSo So Def, lead by CEO and founder Jermaine Dupri, has recently closed a partnership with independent music label/distributor/publisherEMPIRE for the release of Jermaine's upcoming EP.The project's first single is titled "WYA (Where You At?)" and features long time affiliate, multi-platinum artist and actorBow Wow, who makes his return on the up-beat club record.
Bow Wow, who has established a career in rapping since the age of 5  "I have so much music that needs to be heard … I've been quiet for four years … I want to dictate when my music comes out," he said.
Since Bow Wow's last music release, he has been focused on his acting career starring inCBS's CSI: Cyber, the launch of his spirits brand NDI Vodka and expansion of his clothing lineAsphalt Yacht Club. As for his music, he is now collaborating with Jermaine Dupri and Snoop Dogg on new records to come. The first of the many is So So Def's "WYA (Where You At?)" single which is now available on all digital music outlets including iTunes, Amazon, Google Play, and Spotify. Expect a video soon, for now check out the premiere of "WYA (Where You At?)" on Billboard.
About Bow Wow
With nearly 20 years in the film, television and music industry, Shad Moss a.k.a. Bow Wow, continues his career in television as an actor starring in CBS's "CSI: Cyber" and was the co-host for "106 & Park." Also a young entrepreneur, Moss is the founder of NDI Vodka and the Brand Ambassador for Asphalt Yacht Club. At age 5, he was discovered by hip-hop star Snoop Dogg and featured on the icon's groundbreaking album "Doggystyle." He later teamed up with Jermaine Dupri for his solo debut release "Beware of Dog" in 2000, the kickoff to a string of platinum and gold albums that spawned six No. 1 singles as the youngest solo rapper to ever hit No. 1.  He has sold more than 10 million albums to date and as a young star helped brand the groundbreaking "Scream Tour," selling out Madison Square Garden three times.  He'll continue to release new music for his fans.
Moss made his debut in the feature film "Like Mike" in 2002.  His additional film credits include "Lottery Ticket," "Johnson Family Vacation," "Roll Bounce," "The Fast and the Furious: Tokyo Drift" and "Hurricane Season."
For three seasons, Moss starred as Charlie in "Entourage."  His additional television credits include guest-starring roles in "Moesha," "The Steve Harvey Show," "Brothers Garcia," "Smallville" and "Ugly Betty."
Moss has released five albums, including "Beware of Dog," "Doggy Bag," "Unleashed," "Wanted," "The Price of Fame" and "New Jack City II."  His new album, "Underrated," is due out later this year.
Currently, Moss resides in New York and Los Angeles.  His birthday is March 9.  Follow him on Twitter @smoss.